Probability and Programming to excel at Yu-Gi-Oh! (Paperback)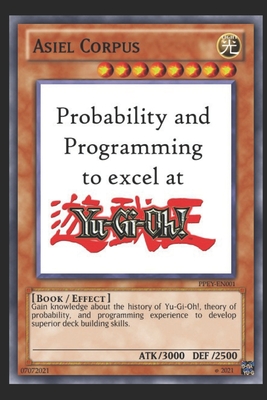 $19.19

Usually Ships in 1-5 Days
(This book cannot be returned.)
Description
---
Are you a Yu-Gi-Oh duelist looking to take your game to the next level? Would you like to know in advance if your strategy is leading you to success? Do you wish there was a way to test and evaluate a thousand Yu-Gi-Oh hands in a matter of seconds? If you answered yes to any of these questions, then follow me through these pages to discover probability and programming skills that you can immediately apply to separate yourself from the average duelists. Some things you will learn in this book are:
The history of Yu-Gi-Oh Trading Card Game through almost 2 decades of duels.
Mathematics and probability lessons to evaluate the consistency of your Yu-Gi-Oh strategies.
Programming experience and full codes that you can immediately apply to simulate thousands of Yu-Gi-Oh hands in a matter of seconds.
Techniques to predict the performance of your favorite strategy in a tournament or against the possible disruptions of the opponent.
A new way to visualize the interactions that exist among the cards in your deck.
Even more
This knowledge will evolve the way you prepare for a Yu-Gi-Oh tournament. All you need to get it are basic mathematics, a computer, and the will to succeed. Previous programming experience
is not
needed. Your move.