El imperio final / The Final Empire (Nacidos de la bruma / Mistborn #1) (Paperback)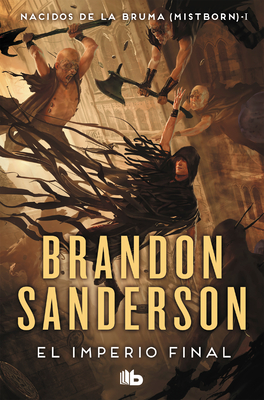 $15.95
Email or call for price.
Other Books in Series
This is book number 1 in the Nacidos de la bruma / Mistborn series.
Description
---
Durante mil años han caído las cenizas y nada florece. Durante mil años los skaa han sido esclavizados y viven sumidos en un miedo inevitable. Durante mil años el Lord Legislador reina con un poder absoluto gracias al terror, a sus poderes e inmortalidad. Le ayudan «obligadores» e «inquisidores», junto a la poderosa magia de la «alomancia». Pero los nobles, con frecuencia, han tenido trato sexual con jóvenes skaa y, aunque la ley lo prohíbe, algunos de sus bastardos han sobrevivido y heredado los poderes alománticos: son los «nacidos de la bruma» (mistborns). Ahora, Kelsier, el «superviviente», el único que ha logrado huir de los Pozos de Hathsin, ha encontrado a Vin, una pobre chica skaa con mucha suerte... Tal vez los dos unidos a la rebelión que los skaa intentan desde hace mil años puedan cambiar el mundo y la atroz dominación del Lord Legislador.

ENGLISH DESCRIPTION

For a thousand years the ash fell and no flowers bloomed; the Skaa slaved in misery and lived in fear; the Lord Ruler reigned with absolute power and ultimate terror, divinely invincible. Then, when hope was so long lost that not even its memory remained, a terribly scarred, heart-broken half-Skaa rediscovered it in the depths of the Lord Ruler's most hellish prison.
About the Author
---
Brandon Sanderson creció en Lincoln, Nebraska. Vive en Utah con su esposa e hijos y enseña escritura creativa en la Universidad Brigham Young. Su primera novela publicada, Elantris (Nova, 2006), fue recibida por el público y la crítica como una interesantísima renovación del género de la fantasía. También ha publicado una brillante trilogía: Nacidos de la Bruma (Mistborn), formada por El imperio final (Nova, 2008), El pozo de la ascensión (Nova, 2009) y El héroe de las eras (Nova, 2010), junto con la precuela, Aleación de Ley (Nova, 2012), donde asienta las bases de su imaginario alomántico en un mundo de bruma y cenizas.

Tras El aliento de los dioses (Nova, 2012), una obra de fantasía épica en un único volumen en la línea de Elantris, Sanderson inició con El camino de los reyes la primera parte de una magna y descomunal decalogía, El Archivo de las Tormentas, de la que Palabras radiantes es la segunda parte. Los últimos títulos publicados por Nova son su aclamada novela Steelheart, primer libro de la Trilogía Reckoner, Infinity Blade (la Espada Infinita): Redención y El Rithmatista.