Brazales de fuego/ The Bands of Mourning (Nacidos de la bruma / Mistborn #6) (Paperback)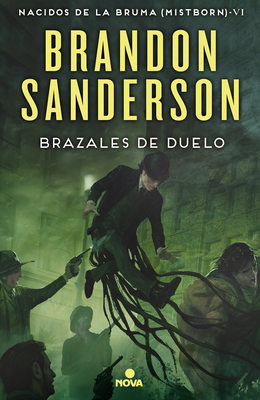 $24.95
Email or call for price.
Other Books in Series
This is book number 6 in the Nacidos de la bruma / Mistborn series.
Description
---
Brazales de Duelo es el sexto libro de la saga «Nacidos de la Bruma [Mistborn]», una obra iniciada con El imperio final y parte imprescindible del Cosmere, el universo destinado a convertirse en la serie más extensa y fascinante jamás escrita en el ámbito de la fantasía épica.

La cuenca de Elendel es un polvorín. El descontento de los trabajadores se suma a las diferencias irreconciliables entre la capital y las demás ciudades de la cuenca; Elendel asegura gobernarlas mientras sus habitantes denuncian la opresión a la que se sienten sometidos. De pronto, llega a oídos de Waxillium Ladrian que un académico kandra podría haber localizado los legendarios Brazales de Duelo, un arma capaz de sembrar la destrucción y dar al traste con el actual equilibrio de poder imperante en la cuenca.

Pero perseguir mitos no se cuenta entre las atribulaciones de un representante de la ley como él, acuciado por problemas más inmediatos. Pero ¿qué puede hacer cuando sospecha que ha sido engañado por el mismísimo Dios? La revelación resultante sacudirá los cimientos de todo cuanto creías saber sobre el mundo de «Nacidos de la Bruma [Mistborn]».

Desde 2006, y en solo diez años, Brandon Sanderson se ha consolidado como el gran renovador de la fantasía del siglo XXI y el autor del género más prolífico del mundo. Ha logrado ganarse a ocho millones de lectores, ser publicado en treinta países y convertirse en el heredero de todo un género.

ENGLISH DESCRIPTION

Three hundred years after the events of the Mistborn trilogy. The Bands of Mourning are the mythical metal rings owned by the Lord Ruler, said to grant anyone who wears them his powers. Hardly anyone thinks they really exist, but someone has returned to Elendel with images that seem to depict the Bands...
About the Author
---
Brandon Sanderson creció en Lincoln, Nebraska. Vive en Utah con su esposa e hijos y enseña escritura creativa en la Universidad Brigham Young. Su primera novela publicada, Elantris (Nova, 2006), fue recibida por el público y la crítica como una interesantísima renovación del género de la fantasía. También ha publicado una brillante trilogía: Nacidos de la Bruma (Mistborn), formada por El imperio final (Nova, 2008), El pozo de la ascensión (Nova, 2009) y El héroe de las eras (Nova, 2010), junto con la precuela, Aleación de Ley (Nova, 2012), donde asienta las bases de su imaginario alomántico en un mundo de bruma y cenizas.

Tras El aliento de los dioses (Nova, 2012), una obra de fantasía épica en un único volumen en la línea de Elantris, Sanderson inició con El camino de los reyes la primera parte de una magna y descomunal decalogía, El Archivo de las Tormentas, de la que Palabras radiantes es la segunda parte. Los últimos títulos publicados por Nova son su aclamada novela Steelheart, primer libro de la Trilogía Reckoner, Infinity Blade (la Espada Infinita): Redención y El Rithmatista.