Keith Haring: Manhattan Penis Drawings for Ken Hicks (Paperback)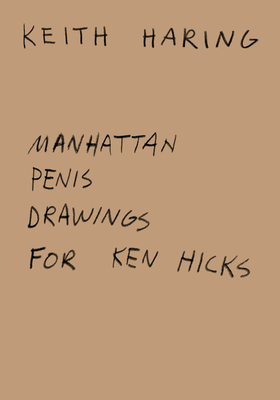 $29.95
Email or call for price.
Description
---
Haring's humorous drawings envision New York as the city of the phallus
Synonymous with the 1980s downtown New York art scene and embraced by popular culture for his peppy line drawings of dancing figures, Keith Haring (1958-90) blended a cheery optimism and an active sense of humor with a populist, activist commitment in his work. Arriving in New York in 1978 to study at the School of Visual Arts, he experimented with performance, video, installation and collage, and found himself increasingly involved in an alternative art community that showed its work in the streets and nightclubs; Haring himself would find a uniquely effective platform for his drawings in the unused advertising panels scattered throughout the subway system.
Manhattan Penis Drawings for Ken Hicks collects one singular series of Haring's drawings: a series of cartoonish penises inspired by the city of Manhattan, made in the late 1970s. Sometimes the inspiration is quite literal, as in a drawing of the Twin Towers reimagined as two erect penises. Other times, the relation is more atmospheric, as in the drawing of a frenzied mass of penises evoking the hustle and bustle of the city but also recalling the dynamism of Futurist painting, captioned "Drawing penises in front of The Museum of Modern Art."