Tom of Finland: Bikers, Vol. 2 (Hardcover)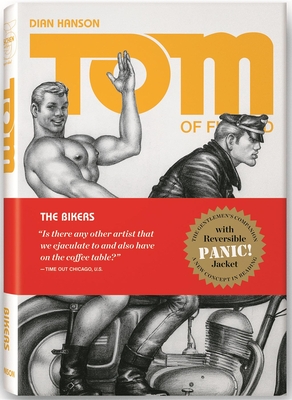 $18.00
Email or call for price.
Description
---
Boys will be boys Tom's Brando-inspired bikers and leathermen In 1953 The Wild One, starring Marlon Brando as Johnny, leader of the Black Rebels Motorcycle Club, was released worldwide. In 1954 Tom of Finland, previously known for his military and blue-collar subjects, drew his first civilian motorcyclist dressed in black leather. Coincidence? Hardly. The Wild One, originally marketed to a female audience with a poster featuring a close-up of Brando's face sans leather cap, hair tousled, cheeks and pout tinted pink with the tagline "That 'Streetcar' Man has a new Desire ", resonated far more with gay audiences, who took Brando's character as a template for the first leatherman. After seeing The Wild One Tom never drew men in brown leather again; black leather now dominated his fantasies, and his art.

Tom adopted Brando's leather Perfecto jacket, white T-shirt, Levi's, and high boots as his signature look. It was this same look that Tom selected for Kake, his confident, ever-horny hero of 26 panel stories. Kake became Tom's fearless, outgoing alter ego, and bikers supplanted military men as his favorite subject.

In Tom of Finland Volume II--Bikers we explore Tom's fascination with bikers through a mixture of multi-panel comics and single panel drawings and paintings, starting in the 1940s, before The Wild One fixed his taste on black leather, through the 50s, 60s, 70s and 80s. Historic film stills and posters, personal photos of Tom, sketches, and Tom's own reference photos make this far more than another Tom's Comics retread.

This edition's special Panic Cover is reversible to a realistic-looking academic book to keep the real contents hidden from your annoying boss or even help you impress an attractive onlooker Text in English, French, and German.
About the Author
---
The artist:

Touko Laaksonen, the boy who would become Tom of Finland (1920-1991), began drawing cartoons at age five. His favorite subjects were the rough manly men of his native Finland, as Touko knew from an early age that men interested him more than women. His talents were further honed by art study in Helsinki. He found success in the Finnish advertising industry but secretly continued creating his increasingly erotic drawings of hyper-masculine men. In 1957 he submitted some drawings to the American magazine "Physique Pictorial" and the "Tom of Finland" legend was born. By the late '60s Tom's "dirty drawings" became the standard for gay art, and Tom's Men a template for a new gay masculinity. Tom's art continues to play an important role in promoting self-confidence, positive self-image and openness in the gay community.

The editor:

Dian Hanson was born in Seattle in 1951. For 25 years she produced various men's magazines, including "Puritan," "Juggs" and "Leg Show," before becoming TASCHEN's sexy book editor in 2001. Her many books for TASCHEN include "Vanessa del Rio: Fifty Years of Slightly Slutty Behavior, Tom of Finland XXL," and" The Big Butt Book." She lives in Los Angeles.