Greed: A Seven Deadly Sins Novel (7 Deadly Sins #3) (Paperback)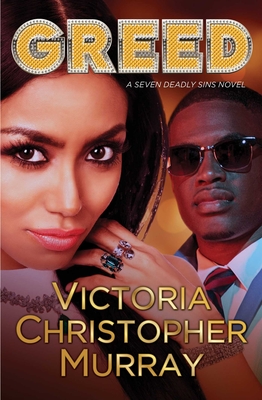 $16.00

Usually Ships in 1-5 Days
Other Books in Series
This is book number 3 in the 7 Deadly Sins series.
Description
---
The 7 Deadly Sins series that inspired four Lifetime original movies continues as a woman faces a difficult and life-changing choice—from the award-winning author of The Personal Librarian.

You can't put a price on love…

Zuri Maxwell isn't happy. Her job is a grind, and money is always tight. Her boyfriend Stephon is the best part of life, but between his income as an artist and her commission-based paycheck, they are barely scraping by.

When Zuri meets a sleek entrepreneur eager to pick her brain, she jumps at the chance to talk business with someone who has everything she wants. As he wines and dines her, Zuri starts moving in elite circles, and she faces a crossroads: Will she give up the stable, loving life she knows for one that glitters, but may not be gold?
About the Author
---
Victoria Christopher Murray is the New York Times and USA TODAY bestselling author of more than thirty novels, including Stand Your Ground, a Library Journal Best Book of the Year and NAACP Image Award Winner. Her novel, The Personal Librarian, which she cowrote with Marie Benedict was a Good Morning America Book Club pick. Visit her website at VictoriaChristopherMurray.com.
Praise For…
---
Praise for ENVY

"[Envy] captures the drama of The Real Housewives of Beverly Hills while also bringing this well-developed work of urban fiction to a satisfyingly redemptive conclusion."
—Booklist

Praise for LUST

"Murray has penned hot, steamy scenes in which her protagonist's imagination runs wild, followed by the consequences of her realizing her dangerous dreams. A jarring twist at the end has the reader wondering who the good guys really are."
—Booklist (starred review)

"Murray mixes quite a bit of passion, a touch of treachery, and some good old-fashioned revenge."
—Library Journal

"A topsy-turvy tale of passion on steroids."
—Essence Magazine

Praise for STAND YOUR GROUND

"Stand Your Ground by Victoria Christopher Murray is a fact-to-fiction examination of the human condition. Using a vivid, realistic premise, she takes a 360-degree view to bring all sides to the forefront for us to enjoy, learn from, judge and celebrate. . . . The characters draw us in for debate and conversation long after the final sentence. Stand Your Ground has great literary relevance for our time."
—USA Today

"Murray, winner of several African American Literary Awards for fiction, powerfully captures the nuances and tragedies engendered by stand-your-ground laws. A must-read."
—Booklist (starred review)

"Murray has written a tension-packed novel around the hot-buzz national topic of an unarmed black youth shot by a white male, an act then subjected to the Stand Your Ground rule as a legal defense tactic. . . . Murray's writing admirably shows the often overlooked human emotions following racial violence. . . . The pulled-from-the headlines storyline will captivate readers."
—Library Journal (starred review)

"With artful descriptions, Victoria put me inside their hearts and minds. I did not just enjoy this read, I lived it."
—Michelle Lindo Rice, author of the Able To Love series

Praise for FOREVER AN EX

"Murray spices up her story line with plenty of juicy scandals. . . . Readers seeking an emotional tale with broad themes of trust, betrayal, and forgiveness will do well by choosing Murray's latest effort."
—Library Journal

Praise for NEVER SAY NEVER

"Murray creates a believable scenario of two people who never wanted to hurt their friends…. With extremely well-drawn characters, the story offers neither blame nor excuses, keenly depicting the heartbreaks caused by both death and betrayal."
—Publishers Weekly

"Readers, be on the lookout for Victoria Christopher Murray's Never Say Never. You'll definitely need to have a buddy-reader in place for the lengthy discussion that is bound to occur."
—USA Today

"Never Say Never is a testament to the magnificence of Murray's storytelling gift! The author creates a surprisingly satisfying ending for each of the characters, even when their 'sin' seems unforgivable."
—RT Book Reviews

"Another tantalizing morality tale about the price of ambition from award-winning author Murray ... Expect increasing buzz as the series continues."
—Booklist