Armored (MP3 CD)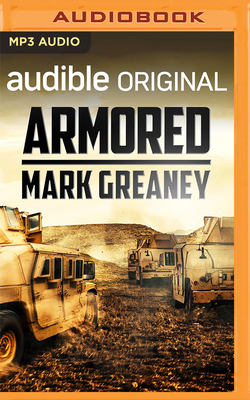 $24.99
Email or call for price.
Description
---
A team of military contractors fights for its life in this high-adrenaline, full-cast drama from Mark Greaney, author of the Audible and New York Times best-selling Gray Man series.
Josh Duffy is staring into the abyss.
A decorated army veteran turned military contractor, his last mission went sideways, leaving him badly injured and his career derailed. Now, he's working as a mall cop, trying to keep his family one step ahead of the bill collectors.
So when a chance at redemption - and a big pay day - comes his way, Duff eagerly jumps in.
The job - to ride shotgun on a motorcade of heavily armed and armored vehicles as they roll into Mexico's cartel country. The mission - to find a notorious drug lord and bring him to the negotiating table with the Mexican government and the UN.
But Duff's employer, Armored Saint, has a track record that's sketchy, at best. And from the moment the motorcade hits the dusty roads, the danger only increases.
It's a suicide run - and for Duff, the violent forces of the cartels may not be the biggest threat.
NOTE: Armored contains scenes of violence and strong language and is intended for mature listeners.
Cast:
Robert M. Jimenez
Ana Osorio
Andrew Call
Barrie Kreinik
Brandon Dirden
Chris Andrew Ciulla
Dan Bittner
Elizabeth Evans
Fajer Al-Kaisi
Gabriel Gutierrez
Gregory Connors
Jay Snyder
Kevin T. Collins
Khristine Hvam
Lauren Fortgang
Neil Hellegers
Steve Routman
Thom Rivera
Alejandro Toro
Alex Hernandez
Beto Ruiz
Eliud Kauffman
Gabriel Romero
Jalen Gilbert
John Mossman
Leila Buck
Ronald Conner
Santiago Ceja Garza
Simon Jutras