5 Minute Girls Gratitude Journal: 100 Day Gratitude Journal for Girls with Daily Journal Prompts, Fun Challenges, and Inspirational Quotes (Unicorn De (Paperback)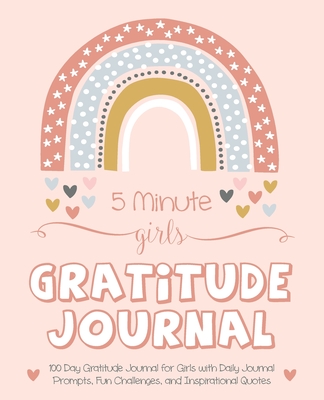 $12.49

Usually Ships in 1-5 Days
Description
---
What a great habit to learn while young
Practicing gratitude daily is an amazing habit to start. We designed this gratitude journal to easily guide girls (ages 5-12) in 5 minutes of reflecting on their day, feelings, and positive thoughts. With 100 days of unique kindness challenges, memory-making challenges, inspirational quotes, and reflective journal prompts, this journal will help form habits for a lifetime of cultivating thankful and happy hearts
WHY THIS BOOK?
★BOOST HAPPINESS - Research shows that journaling about what you are grateful for can increase your long-term happiness.
★GAIN EXPERIENCE - Girls will be eager to do the daily kindness or memory-making challenge and will learn as they experience various emotions and accomplishments from them.
★ENHANCE PERSPECTIVE - The included inspirational quotes and reflective journal prompts will help girls take time to think and positively frame their thoughts and feelings.
★INCREASE YOUR SELF-ESTEEM - Gratitude can help your child feel better about their circumstances which can lead them to feeling better about themselves.
★IMPROVE YOUR OVERALL HEALTH - Research shows a more grateful a person is the more likely to take care of themselves.
BOOK SPECS
✔️ SIZE: 7.5" x 9.25" - Composition Notebook Size - Perfect size that isn't too small for kid's large handwriting but not as big as a large notebook. (235mm x 191mm)
✔️ PAGE COUNT: 100 pages
✔️ PAGE COLOR: Cover is glossy full color print. Interior pages are black and white so we can offer a great price.
✔️ PAGE DESIGN: The same page design is used for each page on purpose - this is a more simple journal designed for young kids. There are no unique prompts or questions to slow down a younger mind, at this stage the goal is to simply focus on being grateful everyday. See some of our other journals for more complex designs.


Categories: Gratitude journal for kids, gratitude journal for boys, gratitude journal for girls, daily gratitude journal