The Whispering House (Paperback)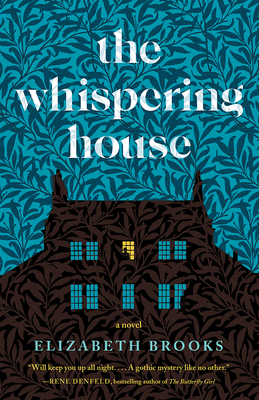 $16.95

Usually Ships in 1-5 Days
Staff Reviews
---
Recovering from her sister's suicide, Freya falls under the spell of Byrne Hall—a mysterious, crumbling British seaside mansion—which houses the magnetic artist Cory and his bed-ridden mother. While Freya loses touch with day-to-day reality, she also uncovers secrets about her sister. THE WHISPERING HOUSE by Elizabeth Brooks is a hugely atmospheric gothic novel, perfect for readers who relish the psychological creepiness of Daphne Du Maurier's well-known classic Rebecca.
— From
Beth's Book List
Description
---
"Eerie and addictive. . . . Like Wuthering Heights, The Whispering House is a melancholy novel, its characters filled with dark longings." — The New York Times Book Review

From the acclaimed author of The Orphan of Salt Winds
It was like holding a couple of jigsaw pieces in my palm, knowing there was a whole picture to be made, if I could only find the rest.
Freya Lyell is struggling to move on from her sister Stella's death five years ago. Visiting the bewitching Byrne Hall, only a few miles from the scene of the tragedy, she discovers a portrait of Stella—a portrait she had no idea existed, in a house Stella never set foot in. Or so she thought.
Driven to find out more about her sister's secrets, Freya is drawn into the world of Byrne Hall and its owners: charismatic artist Cory and his sinister, watchful mother. But as Freya lingers in this mysterious, centuries-old house, her relationship with Cory crosses the line into obsession and the darkness behind the locked doors of the estate threatens to spill out.
In prose as lush and atmospheric as Byrne Hall itself, Elizabeth Brooks weaves a simmering, propulsive tale of art, sisterhood, and all-consuming love: the ways it can lead us toward tenderness, nostalgia, and longing, as well as shocking acts of violence.
About the Author
---
Elizabeth Brooks is the author of The Orphan of Salt Winds, The Whispering House, and The House in the Orchard. She grew up in Chester, England, graduated from Cambridge University, and resides on the Isle of Man with her husband and two children.
Praise For…
---
Eerie and addictive. . . . Like
Wuthering Heights
,
The Whispering House
is a melancholy novel, its characters filled with dark longings.
— The New York Times Book Review
The Whispering House
is atmospheric and creepy, and as needy, nostalgic Freya is pulled deeper and deeper into its shadows, the reader's worry for her grows—and, with it, the novel's suspense. Freya is haunted by words she wishes she could take back, the sister she lost, the love that never was, the hopes for the future that she couldn't attain; all of these materialize in the deep shadows and shifting portrait-eyes of Byrne Hall. Brooks has crafted a slow-simmering, psychological, gothic novel about grief and longing.
— Booklist
Brooks cooks up a spellbinding gothic story featuring a sinister country house. This is an exquisitely creepy page-turner.
— Publishers Weekly
A compelling gothic tale.
— City Book Review
Eerie, gripping, and macabre: a gothic romance for the contemporary age.
— Kirkus Reviews
A gothic mystery whose ethereal tone and atmospheric detail allow it to step lightly between heavy revelations.
— BookPage
Love the gothic vibes of Brooks's new novel.
— CrimeReads
Spooky and captivating. . . . this unsettling story about heartache and yearning is filled with bone-chilling breezes, taunting ghosts and maddening isolation.
— Shelf Awareness
With a compelling narrator, absorbing atmosphere, and loads of literary references, this modern gothic novel is a stunner.
— The Modern Mrs. Darcy Summer Reading Guide
Shimmering, lush, with prose that beats at the heart,
The Whispering House
will keep you up all night. Elizabeth Brooks has written a gothic mystery like no other.
— Rene Denfeld, bestselling author of The Butterfly Girl