Bookstore Babies (Board book)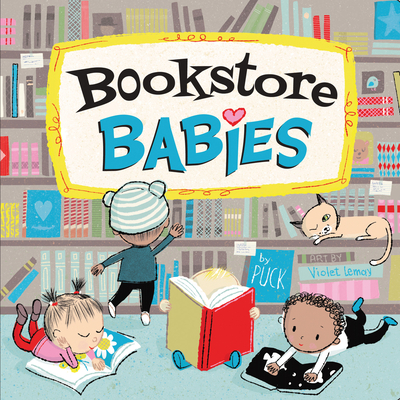 $7.95

Usually Ships in 1-5 Days
Description
---
Here come the bookstore babies, ready to give you a tour of their favorite local shop.
Spirited images pair with quirky text to introduce young readers to a group of smart, active, stylish, and just plain silly tots who love to explore their favorite bookstore. From storytime to playing with the bookstore cat, this entertaining board book is an essential introduction to all of the fun that can be found inside a bookstore.
And the fun doesn't end there: Bookstore Babies includes oodles of amusing activities and educational reading tips to help parents enjoy the book with their children over and over again!
About the Author
---
Puck is the author of dozens of children's books, including New York Baby and My Foodie ABC. He is also the creative chief behind duopress labs, the company responsible for book series like TummyTime, Terra Babies at Home, Pop Out Books, and many more.
Praise For…
---
"Bookstore Babies shows readers 0–4 the joys bookstores hold—including, of course, cats. Babies are depicted enjoying belly time and story time, practicing shapes and eating snacks and a page of text (with an illustration of a slightly stressed cat being chased by a happy toddler) points out that 'playing with the bookstore cat is always a treat!' " —Siân Gaetano, children's and YA editor, Shelf Awareness

"This board book is full of illustrations by Violet Lemay of babies reading, being read to and playing in a bookstore. There is a list of activities and tips at the end of the book for new parents to engage little ones in words and play for even more learning (like 'find the hidden numbers' and 'point to the flags')." —Chicago Parent

"A lively love note to bricks-and-mortar bookstores." —Publishers Weekly

". . . great book to help foster your little one's love for books!" —My Sweet Sleeper

"Babies of all different races are shown. . ." —My Sweet Sleeper