Every Second: 100 Lightning Strikes, 8,000 Scoops of Ice Cream, 200,000 Text Messages, 1 Million Gallons of Cow Burps ... and Other (Hardcover)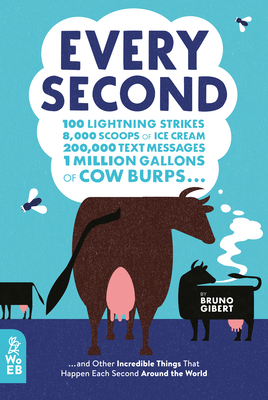 $21.99
Email or call for price.
Description
---
Have you ever wondered what happens around the world in each and every second of the day? How many text messages are sent? How much ice cream is eaten? How many plastic bottles are recycled?
This striking portrait of our world in numbers makes statistics fun and accessible to kids
Every Second offers a unique introduction to numbers and statistics, perfect for kids in kindergarten and at elementary school. Full of fascinating and fun facts, and clear, colorful infographic illustrations, this book will help develop math skills and an understanding of our world.
This book also provides the perfect launch-pad for thought and discussion about a wide range of issues, including the environment. For example, juxtaposing statistics show that although 15,000 plastic bottles are produced every second, only 1,600 are recycled. With remarkable facts, lush illustrations, and memorable infographics, Every Second reveals the incredible things that happen each and every second in our world