Talk Smack to a Hurricane (Paperback)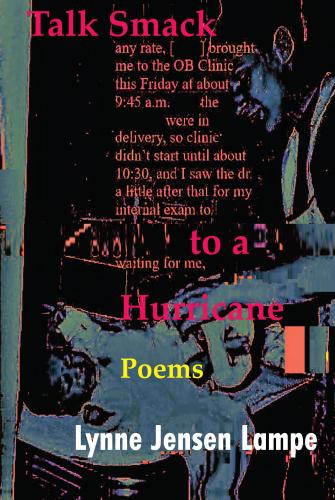 Description
---
What happens to anger when no one's to blame? Does psychiatry allow a
woman her power and personhood? In her first collection, Lynne Jensen Lampe deals intimately and specifically with the impact of her mother's mental illness. The poems in Talk Smack to a Hurricane explore their relationship, a bond bruised by absence and shaped by psychiatry. One sequence, eight erasures sourced from a letter the author's mother wrote the day after giving birth, tells of a new mother happy with life until an inexplicable mental shift sends her from maternity ward to psych ward—for a year, 2400 miles away from her infant and husband. It was 1959. Today these difficulties might be considered a temporary postpartum mental health issue. Instead, Lampe's mother received lifelong diagnoses of and treatments for schizophrenia and bipolar disorder.
Using vivid imagery, startling sonics, and odd juxtapositions, Lampe
explores a tender and volatile mother-daughter relationship that fed love
as well as insecurities. Which mother-version should the daughter believe?
More than personal history, Talk Smack to a Hurricane includes details of 1883 asylum records, lobotomies, even 1960s fashion icons. Jewish roots and antisemitism also feature in these poems. In examining family heritage and the quest for identity, the collection fights both shame and stigma.
About the Author
---
Lynne Jensen Lampe was born in Newfoundland and raised mostly in Louisiana. Themes of conformity, sanity, gender, and faith often find their way into her work, including her debut collection, Talk Smack to a Hurricane (Ice Floe Press, 2022). Lynne's poems appear in many journals, including Moist, Figure 1, Yemassee, The American Journal of Poetry, One, and Rock & Sling, as well as SMEOP: Urban, a UK anthology. She was a finalist for the 2020 Red Wheelbarrow Poetry Prize. Lynne lives with her husband and two dogs in Columbia, Missouri. When not throwing squeaky toys or forgetting to water the plants, she makes time to edit academic books and journals.
Praise For…
---
Lynne Jensen Lampe draws love from the heart of suffering...exquisitely tuned poems. —Walter Bargen, first poet laureate of Missouri and author of Pole Dancing in the Night Club of God

Evocative and moving, a fascinating collection that captures the portrait of a mother's madness. —Catherine Cho, author of Inferno: A Memoir of Motherhood and Madness

Talk Smack to a Hurricane urgently searches memory...The poems in the book are like spells cast against ghosts. —Ed Skoog, author of Travelers Leaving for the City

A work of deep reconciliation formed through deft lyricism and a rigorous poetics of restorative possibilities of profound love. —Heathen (Heather Derr-Smith), author of Outskirts

Lynne Jensen Lampe's sonorous poems leap across the selves of a life without bothering to please men or to foreground expectations of likable female voices. ...I devoured them. —Alina Ştefănescu, author of Dor and Ribald

This biographical collection also engages with the larger context of mental health and gender. ...These fiery, smoky poems are brave, honest, and true. —Amie Whittemore, author of Glass Harvest