Funeral for Flaca (Paperback)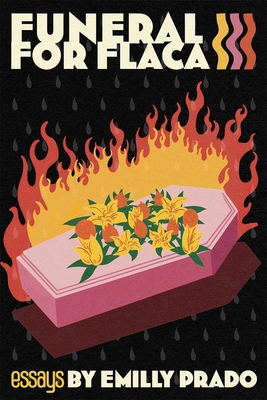 $14.00

Usually Ships in 1-5 Days
Description
---
Funeral for Flaca is an exploration of things lost and found-love, identity, family-and the traumas that transcend bodies, borders, cultures, and generations.
Emilly Prado retraces her experience coming of age as a prep-turned-chola-turned-punk in this collection that is one-part memoir-in-essays, and one-part playlist, zigzagging across genres and decades, much like the rapidly changing and varied tastes of her youth. Emilly spends the late 90's and early aughts looking for acceptance as a young Chicana growing up in the mostly-white suburbs of the San Francisco Bay Area before moving to Portland, Oregon in 2008. Ni de aqu , ni de all , she tries to find her place in the in between.
Growing up, the boys reject her, her father cheats on her mother, then the boys cheat on her and she cheats on them. At 21-years-old, Emilly checks herself into a psychiatric ward after a mental breakdown. One year later, she becomes a survivor of sexual assault. A few years after that, she survives another attempted assault. She searches for the antidote that will cure her, cycling through love, heartbreak, sex, an eating disorder, alcohol, an ever-evolving style, and, of course, music.
She captures the painful reality of what it means to lose and find your identity, many times over again. For anyone who has ever lost their way as a child or as an adult, Funeral for Flaca unravels the complex layers of an unpredictable life, inviting us into an intimate and honest journey profoundly told with humor and heart by Emilly Prado.
"I felt these essays deep in my heart. Funeral for Flaca is like a Chicana punk rock ballad in prose. Soulful and brave, these essays of Prado's life made me feel less lonely, less outcasted, and more seen-and isn't that why we come to books in the first place?" -Kali Fajardo-Anstine, author of Sabrina & Corina
"Once I started reading Funeral for Flaca, I could not stop. The series of essays traverses Prado's life and weaves a narrative that is gripping and beautifully told. Each essay is a finely crafted tribute to periods in Prado's labyrinthine path, intersecting trauma, pathology, loss and, ultimately, perseverance and healing." -Lisa Congdon, artist and author of Find Your Artistic Voice: The Essential Guide to Working Your Creative Magic
"This book is brilliant. It tells the unique stories of what it means to grow up Latina in the U.S. and the universal experiences of love, coming of age and finding your own voice and self. Prado weaves personal stories that make you laugh, cry and give you hope for the future." -Cristina Tzintz n Ramirez, author and co-editor of Presente
"Emilly Prado's Funeral For Flaca is fierce, funny, intelligent, and vulnerable. This memoir-in-essays speaks with ease and honesty about the ferociously hard, isolating moments of youth, and Prado's matter-of-fact tone reads like a friend's voice talking us through the worst of it. Funeral for Flaca is here to remind us: there is a woman lying dormant inside every girl." -Margaret Malone, author of People Like You