Hacking: 17 Must Tools every Hacker should have, Wireless Hacking & 17 Most Dangerous Hacking Attacks (Paperback)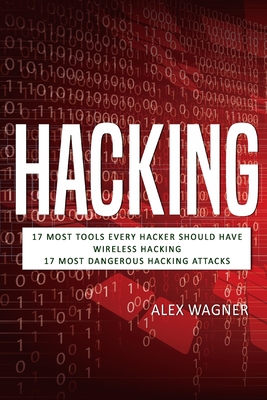 $49.99

Usually Ships in 1-5 Days
Description
---
Book 1 - The Ultimate Guide to Hacking using 17 Most Dangerous tools
This book will focus on some of the most dangerous hacker tools that are favourite of both, White Hat and Black Hat hackers.
Beginning with some of the fundamentals of networking, and technologies that are vital to be aware for every hacker.
It will cover some studying techniques that can be used in order to be able to follow today's fast growing technologies, and then will recommend additional study materials and what certification path you should be aiming in order to become an IT Professional.
The focus of this book will be to introduce some of the best well known software that you can use for free of charge, furthermore where to find them, how to access them, and finally in every chapter you will find demonstrated examples step-by-step, on hacker tools.
The discussions and implementation examples will provide you not only how to use hacking tools, but how to become a Man in the Middle in multiple ways.
Additionally you will be demonstrated how to create a Denial of Service Attack, how to manipulate the network infrastructure by creating fake packets, as well how to replicate any networking device, and fool end users to install backdoors on demand.
In order to understand hackers and protect the network infrastructure you must think like a hacker in today's expansive and eclectic internet and you must understand that nothing is fully secured.
There are many step by step method on how to plan a successful penetration test and examples on how to manipulate or misdirect trusted employees using social engineering.
The intention of this content is to benefit readers by reviewing detailed facts as well as personal experience.
Your reading of this book will boost your knowledge on what is possible in today's hacking world and help you to become an Ethical Hacker.
Book 2 - The Ultimate Guide to Wireless Hacking using the best tools 2019
In this book you will learn:
* How to find hidden wireless networks
* How to join any wireless access points
* How to implement a Rouge Wireless Access Point
* Discovering networking devices through wireless
* Exploiting systems in multiple ways using wireless technologies
* Implementing Man in the Middle attack in multiple ways
* How to create an Evil Twin
* How to implement wireless collision attack
* Why you should never join a free wireless network
* Wireless flooding attack, Replay attack, Denial of Sleep, and many more.
Book 3 - The Ultimate Guide to the 17 Most Dangerous Hacking Attacks
In this book you will learn about:
ADWARE
SPYWARE
MALWARE
MAN IN THE MIDDLE
LOCKY
TRAFFIC REDIRECTION
PAYLOAD INJECTION
ARP POISONING
WORMS
ROGUE WIRELESS ACCESS POINTS
COLLISION ATTACKS
REPLAY ATTACKS
PHISHING
VISHING
WHALING
SMISHING
SPEAR PHISHING
DUMPSTER DIVING
SHOULDER SURFING
BRUTE FORCE ATTACK
DICTIONARY ATTACKS
RAINBOW TABLES
SOCIAL ENGINEERING
SPAMMING
SQL INJECTIONS
DDOS ATTACKS
TCP SYN FLOOD ATTACK
PING OF DEATH AND MUCH MORE...