Dear Mr Andrews (Paperback)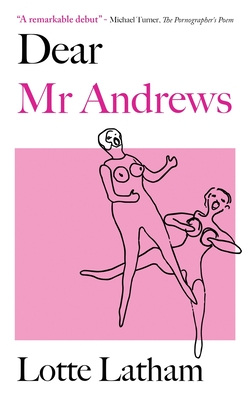 $14.95

Usually Ships in 1-5 Days
(This book cannot be returned.)
Description
---
A millennial's journey through the precarious landscape of sugar dating in the 21st century. Latham embodies the modern-day hedonist, a frank and daring narrator inviting us to experience a secret world of debauchery and excess. She guides us through sugar dates, from kinky dinners to hotel rooms, while embarking on her personal journey of self-discovery and the unwavering realisation of "how much loneliness is in the world."
"In an absolute act of submission this playful, hilarious, candid book dares to lay things bare for our entertainment. Highly recommended." - Susanna Kleeman, author of Twice
"Written in swift, clear-eyed prose, Latham's wry, insightful narrator is an erotic ethnographer who has managed to convince this late-born Boomer that if you can't be honest, at least be true. An important distinction, one that harkens back to de Sade and returns to us generationally through writers like Colette, Ana's Nin, Angela Carter and Tamara Faith Berger. I would respectfully add Lotte Latham to that list. Dear Mr Andrews is a remarkable debut." - Michael Turner, author of The Pornographer's Poem
"Dear Mr Andrews has everything I want from a memoir. Sugar babies, daddies, johns... A natural successor to Lynne Tillman and Kathy Acker. Latham's writing is as sexy as it is stylish." Barry Pierce, writer and critic
In Lotte's own words:
"I've long since felt there's strength in weakness. Over the past six or seven years I've been in and out of sex work, leading a normal life and a smutty one in parallel. I began journaling about some of my experiences: some were funny, some were liberating, some were challenging and often not for the reasons people might project them to be. During this time I met Mr Andrews who is effectively a John who didn't pay, purely bad business on my part. I felt lightly exploited, or at least confused at how I'd ended up giving out sexual favours, on weekdays, to married men for free. So, I began to tell him about my life. Almost every day I message him quite candidly about the ins and outs of escorting, of dating, of dancing, of my day job. And in doing so, I'd go as far to say we have become fetid pen pals."