The Sherlock Holmes Complete Puzzle Collection: Over 200 Devilishly Difficult Mysteries Inspired by the World's Greatest Detective (Hardcover)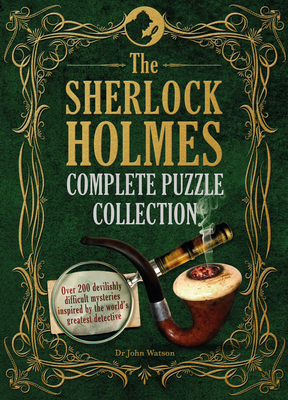 $29.95
Email or call for price.
Description
---
The world's greatest detective returns once more . . . to test your powers of deduction Can you solve all the cases in this remarkable collection?
Written in the style of Sir Arthur Conan Doyle's great stories, and told in the voice of Dr. Watson, this book offers an enlightening and diverting selection of puzzles--more than 200 of them. They range from elementary riddles to fiendish brainbusters, from simple riddles to full-out mysteries. Fans must follow threads of logic through convoluted labyrinths, unravel wordknots, figure out identities, solve a murder by looking at an illustration, and much more. Can you live up to Holmes's exacting standards? Solvers will find tips and tricks for "deducing" the Sherlock way, along with all answers and explanations.
About the Author
---
Tim Dedopulos is an author, puzzle setter, and editor. He worked for Wizards of the Coast and White Wolf, and has written role-playing games and fiction. His books include The Sherlock Holmes Puzzles Collection and The Greatest Puzzles Ever Solved. He lives in London.