Domestic Arts (Paperback)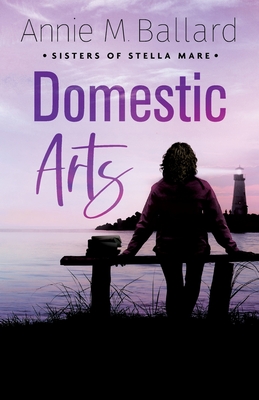 $16.99

Usually Ships in 1-5 Days
Description
---
The last thing she wants is a boyfriend. The last thing he wants is to take advantage of a situation.
Artist Evie returns to Stella Mare with nothing. Having spent years building her boyfriend's art practice, their break-up leaves her without a career, a home, or a way to make a living. She becomes enraptured with the hooked rugs made by an ancestor, stashed in her father's attic. But is she just avoiding reality?
Stephen shivers through a Stella Mare spring to collect stories and art from fishermen. On sabbatical from his university in the southern US, he's a local novelty, helping his friend Leonard in the art gallery. But when he discovers his job may evaporate, he throws himself deeper into his work. He'll think about that problem later.
Evie stumbles into the gallery and Stephen's life. She has connections he wants; she's a local, linked to Stella Mare and all its history. He's a fellow artist-type, and she relishes their new connection. Their friendship blooms through conversation, coffee and art. It should be easy.
But of course, life happens. A family crisis, demands from the ex-boyfriend, conniving gallery owners, disappearing grant funding, all challenge Evie with the question, what is my worth? As she grapples, Stephen must question his own integrity. Am I really the man I want to be?
This delightful second book in the Sisters of Stella Mare series features small town romance, big dogs, ancestor dreams, delicious baked goods, and beach bonfires. And the unforgettable Madison family.