Trash Revolution : Breaking the Waste Cycle (Hardcover)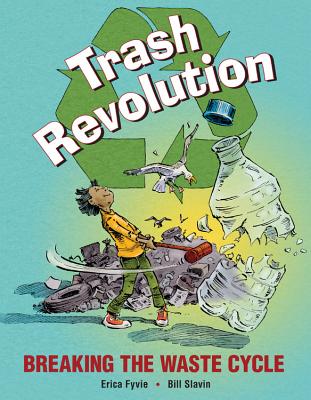 Description
---
All the "stuff" that surrounds us has a life cycle: materials are harvested, the stuff is made and distributed, it's consumed and then it gets trashed or recycled. Using the typical contents of a child's school backpack (defined as water, food, clothing, paper, plastic, metals, electronics), this book explores those stages in detail, including lots of ways to reduce, reuse or recycle waste along the way. Children will gain new insight into the routine decisions they make about their own consuming and trashing or recycling practices. For example: How long does it take for a cotton T-shirt to decompose in a landfill? Can a bike helmet be made from recyclable materials? Which is better for the Earth, wrapping a sandwich in aluminum foil or plastic? By learning to use critical thinking skills to make informed choices, children will feel empowered by the important, constructive role they can play in the future health of the planet.

Author Erica Fyvie has found a way to use everyday objects to speak directly to children's curiosity and their desire to make a difference. With infographics, short subsections, sidebars and charts, the information presented is engaging and accessible. Playful illustrations by award-winning illustrator Bill Slavin help make complex subjects easier to understand, while keeping the tone friendly. From energy to climate, innovations to sustainability, this all-encompassing look at a timely topic is the perfect go-to resource for elementary science and social studies classrooms. Includes a glossary, resources, bibliography and index.
About the Author
---
Erica Fyvie has worked as an academic editor and writer, and has written for magazines and blogs. Breaking the Waste Cycle is her first book for children. She lives in Toronto, Ontario.
Bill Slavin is an award-winning children's book illustrator with over 50 books to his credit. His works include Stanley's Party and The Bear on the Bed He lives in Millbrook, Ontario.
Praise For…
---
Endlessly informative and eminently readable ...—School Library Journal, starred review

... the content is both approachable and interesting, and it leaves readers with a sense of responsibility for the Earth's future.—Kirkus Reviews

Slavin illustrates in lively pen-and-ink art, featuring cartoonlike characters implementing workable solutions to combat waste, which Fyvie encourages readers to embrace themselves.—Publishers Weekly

Offering good reasons for reducing, reusing, and recycling, this book sketches an overall picture of the waste cycle, fills it with densely packed facts, and connects it with readers' lives.—Booklist

Anyone who's interested in the waste cycle will have fun getting information out of this book.—San Francisco Book Review

... impressive and comprehensive ...—School Library Connection

... reinforces the need to be aware, to make responsible choices, and for everyone to do their part in reducing the amount of waste in the environment.—CM Magazine

Anyone, adults included, will learn something new and valid by browsing through Trash Revolution.—Resource Links

... very informative, with thoughtful explanations of what we can all do to make environmentally friendly choices.—Science Magazine