The 69 Mistakes I've Made in Sex and Love (Hardcover)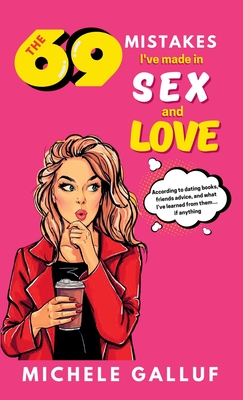 $26.50

Usually Ships in 1-5 Days
Description
---
This book is about a woman's journey towards self-forgiveness and self-awareness, speaking directly to readers who may also be on a quest for personal growth. The author delves into the ups and downs of her dating scene in a new country. It is not always easy for a Latina immigrant to adjust to a new culture. But it is fun and enlightening.
Einstein famously said: "Insanity is doing the same thing over and over again and expecting different results." And yet, we ladies keep doing just that. We keep giving guys the benefit of the doubt when we shouldn't and, not giving them the benefit of the doubt when we should. We keep chasing off the ones we like and attracting the ones we don't. This book is about breaking that pattern once and for all. This is a hard thing to do, but it can be done. And why not have some laughs and a good time while at it?
A candid exploration of the writer's past failures in sex and love, the book is a unique blend of intensely personal anecdotes as well as cold hard facts, fun and helpful exercises, and advice on dating, sex and relationships from the dozens of self-help dating books Ms. Galluf has voraciously devoured. With so many books on dating and sex from so-called "experts," the result can leave readers more confused than when they went in. The world of dating and dating books is muddling, to say the least. Cherry-picking the wisdom of these books, Galluf takes the reader on a funny and helpful guide through the 69 mistakes she had made in sex and love in America.
From her nude photos being posted over the internet to faking a pregnancy, Michele Galluf is unafraid to revisit even her most outrageous mistakes. Why buy all the dating books when you can get the best advice from them all in this hysterical and heartwarming guide?