History Is Inventive (Hardcover)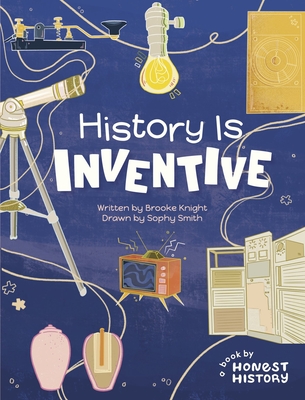 Description
---
A children's book by Honest History exploring inventions (and their inventors) that changed the world.
Discover the true stories behind amazing creations, from the Antikythera mechanism, an ancient analogue computer, to the Baghdad Battery. Learn about each invention through well-researched content accompanied by beautiful illustrations and design. Not only will kids learn about these amazing inventions, they will participate in the original creative process themselves, like building a telescope using the same rudimentary methods used by the inventors. From ancient to modern inventions, kids will learn about the revolutionary ideas and processes used to create the foundation for our modern lives. Featured sections of the book include including the Baghdad Battery, Inventions from the Classic Period & Middle Ages including the telescope, Inventions from the Modern Era including Bluetooth technology, Famous Inventors like Charles Drew, Experiments/Activities, and more.
History for kids has never contained more adventure than in the new series by Honest History, History Is ________. Each book in the series presents a topic in a fun, engaging way that inspires kids to make a positive impact on history themselves. Dive into the world of Honest History with the first two books, History Is Inventive and History Is Delicious.
About the Author
---
Brooke Knight is the cofounder of Honest History and the editor-in-chief of Honest History's eponymous quarterly "Adventure Magazine for Young Historians." California-born, Brooke spent her childhood in Eastern Europe learning history from a unique perspective that gave her a lifelong passion for research and sharing history with others. After receiving her B.A. in English, Brooke decided to pursue a career in writing. In 2017, she set out on a mission to combine her love of writing with her desire to create an engaging resource for kids that inspired them to learn more about history through engaging and intentional design and content. Honest History launched in 2018 and today she lives in Los Angeles with her husband (and cofounder) and two children, William and Charlie.Sophy Smith is an illustrator based in rainy Glasgow who creates bright and lively illustrations celebrating the stories of fascinating people and times in history. Sophy is inspired by the world around her and captures the wonder found within it with bold colors and patterns. She spends her time learning about various mythologies and histories whenever she gets a chance.