L.A. Interchanges: A Brown & Queer Archival Memoir (Paperback)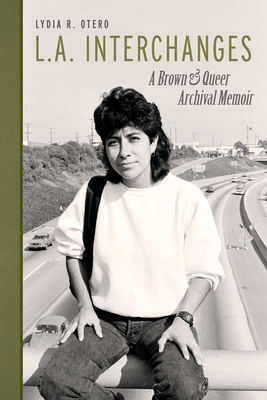 $29.94

Usually Ships in 1-5 Days
Description
---
"A Powerful Memoir and Documentary History"
By combining the intimacy of a personal memoir with the rigor of documentary history, Lydia Otero weaves together a rich narrative of identity, activism, and personal transformation. With meticulous attention to detail, Otero traverses the homes of family members to dancefloors, bustling work sites, and organizing spaces in search of brown and queer belonging. Through photographs, archival documents, and compelling storytelling, Otero crafts a passionate narrative of personal becoming amid the political and cultural currents of 1980s Los Angeles.
Grounded in the philosophy that the personal is political, Otero portrays fellow organizers as strategists exploring previously unimagined avenues to address the needs of brown queers. The book traces Otero's transformations and blossoming sense of self, which often felt constrained by the binary gender assignments of the time, while it tells a documentary history of Lesbians of Color, Gay and Lesbian Latinos Unidos (GLLU), Lesbianas Unidas (LU) and Bienestar: A Gay Latino AIDS Project-groups central to the city's burgeoning queer, brown, and activist scene.
Otero's parallel story of becoming an electrician offers a unique vantage point of a city in the midst of restructuring, as Otero's labor contributed to building some of the most iconic structures in Los Angeles, such as the Universal CityWalk, U.S. Bank Tower, and the Metro Rail.
Meticulously researched, L.A. Interchanges invites readers to delve into the intricate interplay between personal experience and historical context. It is a testament to the complexity of intersectional identities, and the unwavering spirit of those who strive for justice and belonging in the face of adversity.