How Do I Feel?: A Mental Health Journal for Kids (Paperback)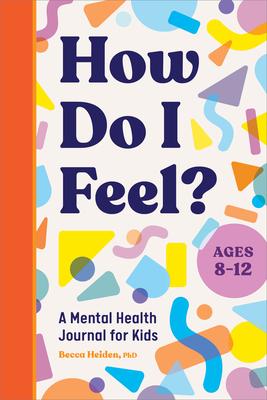 $10.99

Usually Ships in 1-5 Days
Description
---
Help kids understand their emotions
Experiencing new emotions about school, parents, friends, and everyday life is all part of being a kid—and each feeling is perfectly normal. Teach kids all about emotions and how to manage them with this mental health journal.
Space for thoughts—Insightful prompts encourage kids to dive into their emotions, identify feelings, and practice expressing themselves in healthy ways.
Self-care activities—Kids will learn and practice mindfulness through fun activities, including coloring, breathing exercises, drawing, and more.
Tips and strategies—Help kids support their well-being and mental health with good habits, including the importance of an active lifestyle, good sleep, and more.
Give your child a positive foundation for their journey with this mental health children's book.
About the Author
---
DR. BECCA HEIDEN is a child psychologist living in Philadelphia. She received her undergraduate degree from the University of Notre Dame and attended Miami University for her doctoral degree. Dr. Heiden is passionate about mental health advocacy and breaking the stigma of mental health challenges.
Praise For…
---
"Identifying and processing emotions can be difficult for children. This book is a wonderful combination of child-friendly psychoeducation, practical tools children can use to understand and better manage emotions, and open space for reflection. I can't wait to utilize this tool with future clients!" —Heather Derix, PsyD, licensed clinical psychologist

"So much of the valuable and necessary therapeutic work happens outside of sessions. This book clearly assists in getting the child started in that process with so many wonderful prompts! I will be recommending this journal regularly!" —Michael Leveque, PsyD, licensed clinical psychologist

"This journal gets a gold star from my 12-year-old daughter who commented 'I really like the book so far because it shows younger kids that it's OK to not always feel happy or want to talk about their emotions with a parent. It's a good and healthy way to keep your emotions in check.' Helping kids is Dr. Heiden's passion, and it shines through in this journal. From the fun colors, interesting activities, and different approaches to talking about kids' mental health, this is a must-have for anyone with kids to tweens." —Stacey L. Spencer, Ed.D., clinical neuropsychologist