Sam the Cooking Guy: Between the Buns: Burgers, Sandwiches, Tacos, Burritos, Hot Dogs & More (Hardcover)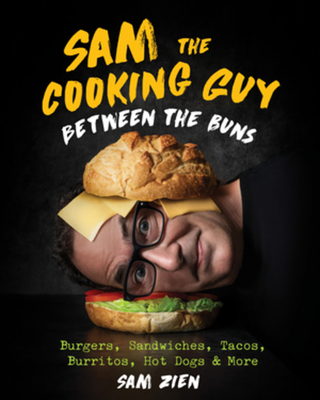 Description
---
Sam Zien celebrates the best way to eat food.
What turns chili and cheese into a burger? The bun. Carne asada into a taco? The tortilla. Grilled PB&J into a sandwich . . . well, you get it. It seems that every civilization on Earth has figured out that the best way to eat food is with your hands, using some form of bread as the vehicle from plate to mouth.
In Sam Zien's hands, every burger, taco, tortilla, and sandwich is as cheesy, toasty, dripping-with-good-stuff as possible. Between the Buns is an ode to the handheld in every iteration from a man who knows how to stuff a perfect burrito. Zien has made cooking accessible to the masses—with 3 million subscribers and growing—through his YouTube show, Sam the Cooking Guy. Now that same charm has been translated to the page, complete with stunning photographs and 100 unapologetically carb-laden recipes that promise to satisfy.
There's something for everyone in this book. Beef, seafood, vegetables, hot dogs (yes, they get their own category), and so much more. You'd have to hate food not to love these recipes, from Korean Short Rib Tacos to Chipotle Sloppy Joes, Chorizo & Guacamole Torta to a Juicy Lucy Burger, Corn Brats to a Surf and Turf Burrito. Topped with homemade Bacon Onion Jam or Garlic Aioli, served with one of a dozen side dishes, including Buffalo Chicken Fries and Elote Corn Salad, this is what it's all about.
About the Author
---
Sam Zien accidentally (no, seriously) became a leading cooking personality and restaurateur after a 20-year crusade to discover what he wanted to do. With more than 4 million followers across social media platforms, he cooks, films, and lives in San Diego, California.