Guitar (Eureka! The Biography of an Idea) (Hardcover)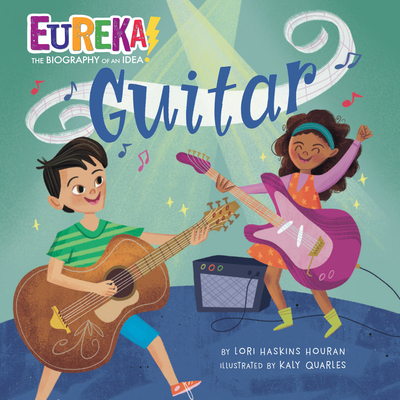 $17.99

Usually Ships in 1-5 Days
Description
---
Turn it up! The newest addition to the nonfiction Eureka! series is a "biography" of guitars, an essential invention that gets people rocking.

With a timeline spanning from the first time someone strummed a string stretched across a hollow object to electric guitars that bring stadiums of people to their feet today, Guitar is a fun and informative look at the development of an invention that adds music to our lives. This STEAM nonfiction title is part of the Eureka! series, with each book focusing on one groundbreaking, world-changing discovery that millions of people use every single day.
About the Author
---
Lori Haskins Houran is a former editor and the author of more than fifty books for kids, including Next to You, Too Many Dogs, and My Little Golden Book About George Washington, as well as Glasses and Bicycle in the Eureka! series.

Kaly Quarles studied interior design and art in college, and her love for architecture, collage, and branding gives her work a graphic appeal. She works digitally, using shapes and loose textures to create rich illustrations with vibrant colors. Guitar is her first book for kids.
Praise For…
---
"Playing to younger audiences and broad enough to include riffs on the Mesopotamian oud, central Asian tanbur, and the nyatiti...Houran traces the guitar's development. Nods to inventors from Antonio de Torres Jurado to George Beauchamp as well as a labeled diagram of parts and a cutaway view of an acoustic body offer...specifics about how basic guitar design evolved." —Kirkus Reviews

"Aimed at kids in early elementary grades, these brief titles trace the development of an object or concept through history, from very early examples to modern-day iterations...[B]oth books employ straightforward, accessible language and detailed illustrations that feature diverse casts of individuals enjoying the cited examples in addition to supporting technical descriptions…both titles do an effective job of introducing their subjects and encouraging kids' curiosity." —Booklist on Guitar and Wind Power