Los hechos casuales / Casual Events (Paperback)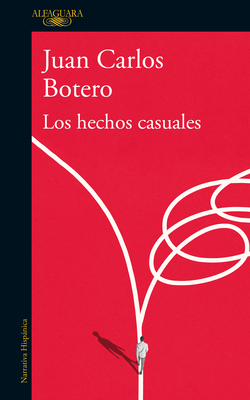 $24.95
Email or call for price.
Description
---
Juan Carlos Botero regresa a la ficción con una novela sobre la violencia, la culpa y el poder del azar.

«La prosa de Botero es de una precisión quirúrgica: narra los acontecimientos como si fuera un escalpelo abriendo la piel de la realidad». –Mario Mendoza
 
El encuentro fortuito entre dos amigos de la infancia es el detonante de esta novela, la cual nos lleva a recorrer la vida de un empresario exitoso y adinerado con un pasado enigmático. Su nombre: Sebastián Sarmiento. Su tragedia: haber perdido a sus seres más queridos. La consecuencia: un sentimiento de culpa que jamás lo abandona. La historia de Sebastián toma rumbos insospechados debido a circunstancias tan simples como una rama seca tirada en el camino, una llamada realizada en el instante preciso y el andar a la deriva por una calle cualquiera.
 
Esas casualidades, y muchas más, son las que determinan el destino del protagonista, y Juan Carlos Botero se vale de ellas para demostrar que no existen hechos intrascendentes, pues un detalle, por más mínimo que parezca, puede cambiar radicalmente el curso de los acontecimientos y desatar una ola de eventos inesperados. Nuestra fortuna deja de pertenecernos cuando se lanzan los dados y nos convertimos, para ventura o desventura, en caprichos de la suerte.

ENGLISH DESCRIPTION

«Botero's writing has a surgical precision: he tells all the events as if he owns a scalpel to open the skin of our reality». –Mario Mendoza

Roberto Mendoza is a writer who reconstructs the life of an old schoolmate named Sebastián Sarmiento, a rich, widowed businessman from Bogotá. Throughout the novel, Roberto composes the story of Sebastián Sarmiento, who at first appears to be an enigmatic character. We learn that his father was assassinated when Sebastián was a child, that he had to leave the country, that he later returned and became a communications magnate, that he was kidnapped, and that he was finally forced to flee Colombia for good.

Roberto's narration is complemented by letters in which Sebastián speaks in the first person. In these missives, Sebastián brings out the feelings of guilt that he carries for the death of his father, his wife, and his friend Rafael, all of whom died due to casual events he instigated himself. This sense of guilt will never abandon Sebastián, and it will transform into the collective guilt that all Colombians carry because of our convulsive and violent past.
About the Author
---
Juan Carlos Botero (Bogotá, 1960; actualmente reside en Miami). Estudió en las universidades de los Andes, Javeriana y Harvard. Ha sido columnista de La Prensa y El Tiempo, y en la actualidad es columnista del diario El Espectador. Ha dictado conferencias y publicado cientos de artículos, y sus cuentos han aparecido en varias antologías internacionales. Su primer libro, Las semillas del tiempo (Epífanos), es un volumen de textos breves que alcanzó el primer lugar de ventas en Colombia. En 1998 publicó Las ventanas y las voces (Ediciones B), una colección de siete relatos que recibió una entusiasta acogida de la crítica española. En 2002 publicó su primera novela, La sentencia (Ediciones B), traducida al alemán, y en 2006 publicó su segunda novela, El arrecife (Seix Barral). En 2007 publicó El idioma de las nubes (ocho textos de arte y literatura; Norma) y en 2010 El arte de Fernando Botero (Planeta). Ha sido ganador de varios premios, entre ellos el Premio Juan Rulfo de Cuento (1986) y el XIX Concurso Latinoamericano de Cuento (1990). Los hechos casuales es su tercera novela y su primera novela en Alfaguara.