El miedo nos hizo fuertes / Fear Made Us Strong (Paperback)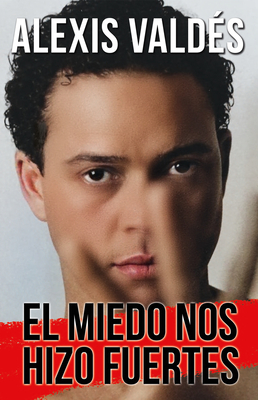 $16.95
Email or call for price.
Description
---
La conmovedora historia de un niño que, a pesar de afrontar el abuso físico en casa, en su barrio y en su país, jamás perdió la alegría de vivir.

Alexis Valdés escribe con profunda ternura sobre el niño que fue y logra reflejar en estaspáginas no solo los años más duros de su vida, sino transportar al lector a la Cuba de su infancia y adolescencia, con sus problemas, sus carencias, su dolor, pero también con una alegría de vivir y la esperanza de que algún día todo será mejor.

El pequeño Alexis es un niño sensible y tímido, que vive con su madre, su hermano y su padrastro que le odia porque se parece mucho a su padre. El machista padrastro no soporta esa imagen dentro de la casa: La imagen del otro hombre de su mujer.

El autor narra su vida en un país donde el abuso y el bullying flota en el ambiente: En casa,donde soportaba las palizas del innombrable, porque se rehusa a escribir su nombre; en el barrio, donde otros padres golpean a sus hijos, los fuertes abusan de los débiles y los homosexuales son masacrados, y en el país donde el gobierno abusa de todos.

Alexis y su familia viven en un barrio de La Habana donde los guapos —los tipos duros dela calle— imponen su ley. Es un ambiente salvaje donde son comunes las peleas de boxeo clandestinas. Solo hay un hombre bueno al que todos temen en el barrio, fuerte como una roca, el padrastro de Renecito, el niño estrella del barrio, y uno de los defensores denuestro protagonista.

Los otros defensores que salvan al niño son su abuela América, una viejita mágica que leda esperanza y fuerza; su hermano asmático y delgaducho, pero muy valiente, y su padre,que es un hombre de éxito, alegre y cariñoso, pero al que no permiten ver a menudo.

El escape del niño es su sueño de viajar a Praga, una ciudad llena de castillos y niños con gorritos y las mejillas rosadas. Todo comienza cuando participa en un concurso de Radio Praga Internacional, que tiene una emisión especial para América Latina. El niño les manda una carta cada semana para participar en el concurso que, de ganarlo, le llevaría ala hermosa ciudad Checa, y más que eso, le sacaría por un tiempo del infierno en que vive.

ENGLISH DESCRIPTION

A heartwarming tale about a young boy who, in spite of dealing with abuse at home, in his neighborhood, and in his country, never lost his joy of living.

With deep tenderness, Alexis Valdés writes about the boy he once was. Within these pages, he not only captures the toughest years in his life, but takes the reader to the Cuba of his childhood and teenage years, with his problems, his deprivations, his pain, but also his lust for life and the hope of a better day.
 
Young Alexis is a sensitive and shy boy who lives with his mother, brother, and stepfather, who hates him because Alexis looks a lot like his father. His sexist stepfather can't stand his likeness around the house—the face of his wife's other man.
 
The author retells his experience in a country where abuse and bullying permeate the air. At home, where he stands the constant beatings of the unmentionable—because he refuses to write down his name. In his neighborhood, where the other parents beat their children, the strong mistreat the weak, and homosexuals are massacred. In a country where the government abuses everyone.
 
Alexis and his family live in Havana, in a neighborhood where the "guapos"—the tough kids—make the law. It's a wild environment where illegal boxing matches are commonplace. There is only one good man, strong as a rock, that everyone is afraid of: Renecito's stepfather, the golden boy in the neighborhood and one of our protagonist's protectors.
 
The other protectors who save Alexis are his grandmother, América, a magical old lady that gives him strength and hope; his asthmatic and skinny but very brave brother, and his father, a successful man, cheerful and caring, but whom he doesn't get to see so often.
 
Alexis escapes by dreaming of going to Prague, a city full of castles and children with beanies and rosy cheeks. It all starts when he enters a Prague International Radio contest, a special broadcast for Latin America. Alexis sends them a letter every week to join the competition. If he should win, he would go to the beautiful Czech city. And more than that, he would escape the hell he lives in for a while.
About the Author
---
Alexis Valdés nació en La Habana, Cuba, en 1963. Es un artista polifacético con casi cuarenta años de carrera que se ha destacado como actor, comediante, presentador, escritor de teatro, guionista de cine y director de cine y teatro. Además, es músico, cantante, compositor y productor musical, nominado tres veces al premio Grammy Latino.

Tras una destacada carrera en su Cuba natal y en España, donde fue una de las figuras más importantes del boom del stand up en español, se radicó en Miami en 2005. Ha cosechado éxitos con sus obras de teatro, entre las que se destaca Oficialmente gay, que estuvo cinco años en cartelera. Ha producido y conducido programas de televisión como Seguro que yes, Esta noche tonight y El show de Alexis Valdés.

Dedicado también a la escritura, es autor del libro Con todo mi humor (Aguilar, 2013) y su conocido poema "Esperanza" fue incluido en el libro del Papa Francisco Soñemos juntos (Simon & Schuster, 2020). En 2021 inició el crossover al mercado en inglés, participando en la serie de HBO White House Plumbers, que se estrena en 2022.