The Monsters We Make: A Novel (Hardcover)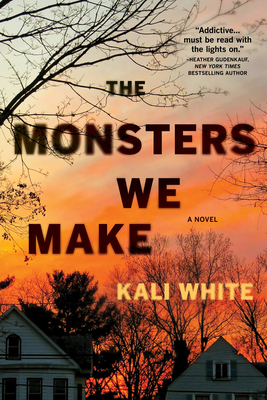 $26.99
Email or call for price.
Description
---
For fans of Rene Denfeld and Shari Lapena comes a rich, atmospheric family drama set in the 1980's following the disappearances of two paperboys from a small midwestern town.

It's August 1984, and paperboy Christopher Stewart has gone missing.

Hours later, twelve-year-old Sammy Cox hurries home from his own paper route, red-faced and out of breath, hiding a terrible secret.

Crystal, Sammy's seventeen-year-old sister, is worried by the disappearance but she also sees opportunity: the Stewart case has echoes of an earlier unsolved disappearance of another boy, one town over. Crystal senses the makings of an award winning essay, one that could win her a scholarship - and a ticket out of their small Iowa town.

Officer Dale Goodkind can't believe his bad luck: another town and another paperboy kidnapping. But this time he vows that it won't go unsolved. As the abductions set in motion an unpredictable chain of violent, devastating events touching each life in unexpected ways, Dale is forced to face his own demons.

Told through interwoven perspectives--and based on the real-life Des Moines Register paperboy kidnappings in the early 1980's--The Monsters We Make deftly explores the effects of one crime exposing another and the secrets people keep hidden from friends, families, and sometimes, even themselves.
About the Author
---
Kali White's stories and essays have appeared in Midwestern Gothic, Nowhere Magazine, Poets & Writers, The Writer and several anthologies. She holds an MFA in creative writing from Vermont College of Fine Arts, is a recipient of a State of Iowa major artist grant and is currently a faculty member of the Lindenwood University MFA Creative Writing Program.
Praise For…
---
Praise for The Monsters We Make:
"[A] gripping novel...White skillfully keeps readers questioning everyone's motives."
—Publishers Weekly

"Very, very good. An air of menace laced with melancholy hangs over every page, a mourning for a more innocent time that perhaps never was real. The monsters were always there; we just couldn't see them."
—Booklist

"A gut-wrenching novel."
—Seattle Book Review, 5-star review

"An excellent read which should appeal to both horror and thriller fans."
—HorrorDNA

"Deftly explores the effects of one crime exposing another and the secrets people keep hidden from friends, families, and sometimes, even themselves."
—Red Carpet Crash

"[Kali White] brings the chilling silence of the 80's to vivid life in a smart, relentless domestic noir. The writing is taut, the plot is fresh, and the small, broken family at the center of the action completely captured my heart. Prepare to be up late; once I started, I could not stop turning pages."
—Joshilyn Jackson, New York Times bestselling author of Never Have I Ever

"Kali White catapults readers with fierce, unflinching honesty into a time corrupted by innocence. The characters are so real they sizzle, and will make you cry as you cheer them on. In the pulse-pounding climax, White manages to serve up justice without ever once denying the terror of all The Monsters We Make." 
—Jenny Milchman, USA Today bestselling author

"In The Monsters We Make, Kali White deftly conveys the terror that gripped a community, a city, a state and a nation when several paper carriers were snatched from their routes... With a shivery premise and richly-drawn characters, VanBaale takes a child's greatest fear and a parent's worst nightmare and delivers an addictive novel that must be read with the lights on."
—Heather Gudenkauf, New York Times bestselling author of Before She Was Found 

"I sped through this page-turning novel, a story so palpably, terrifyingly real that it will haunt me forever. Kali White knows how to write, period."
—Robin Oliveira, New York Times bestselling author of My Name is Mary Sutter 

"Kali White has spun a tale of unbearable suspense in prose...I truly did read this remarkable new novel in one sitting."
—Lee Martin, Pulitzer Prize Finalist author of The Bright Forever

"The Monsters We Make, inspired by true events and snapping with suspense, is a gripping novel, evocative of a time and place that should have been safe but was not. I couldn't turn the pages fast enough."
—Jess Lourey, bestselling author of Unspeakable Things
 

"Kali White's The Monsters We Make had me hooked from page one...A nail-biter with a dark, atmospheric heart."
—Kimberly Belle, international bestselling author of Dear Wife