Milo Manara's Pandora's Eyes (Hardcover)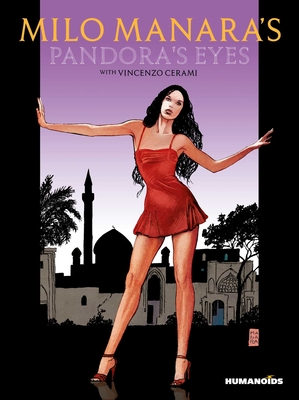 $24.99

Usually Ships in 1-5 Days
Description
---
An edge-of-your-seat international thriller spiced with Milo Manara's gorgeous erotic sensibility.

Pandora is a beautiful young woman living with her adoptive parents in a major European city. Out of the blue, she learns that her real father might be a terrible mob boss wanted by the international authorities. When she is kidnapped and taken to Turkey, she is forced to confront her dangerous past and investigate the motives of the people closest to her.

Vincenzo Cerami, a screenwriter (Roberto Benigni's international hit and Academy Award-winning film Life is Beautiful), collaborates here with one of Europe's greatest artists, Milo Manara.
About the Author
---
Born in Luson, Milo Manara initially earned a living by assisting sculptors and only became interested in comics in the late sixties. He is one of the few comic artists who managed to create erotic comics and still maintain a reputation as an acclaimed artist. In 1995, Manara made Gullivera for Humanoids, loosely based on the classic novel Gulliver's Travels by Jonathan Swift. He worked with Federico Fellini on two stories, with Neil Gaiman for DC/Vertigo in 2003 and collaborated with Alejandro Jodorowsky on the series Borgia, about the 15th century papal family. He also drew X-Women and a variant cover of Spider-Woman for Marvel, in addition to his praised erotic comics such as Pandora's Eyes and The Golden Ass. In 1998, Manara was inducted into the Jack Kirby Hall of Fame and in 2004 he won an Eisner award in the Best Anthology category for The Sandman: Endless Nights.

Born in Rome, Vincenzo Cerami was an Italian screenwriter, novelist, and poet. From 1967 on he contributed or wrote or adapted screenplays for more than 40 feature films. In 1976, his first novel, A Very Normal Man, was published and was an immediate hit, and subsequently adapted into a film in 1977 by Mario Monicelli. Also critically acclaimed was his novel Goodbye Lenin, published in 1981. In 1996 he was a member of the jury at the 46th Berlin International Film Festival, and in 1999 he was nominated for the Academy Award for Original Screenplay for the Roberto Benigni film Life Is Beautiful.