Girl Power: A Journal: Encouraging Prompts and Affirmations to Empower a Confident You (Paperback)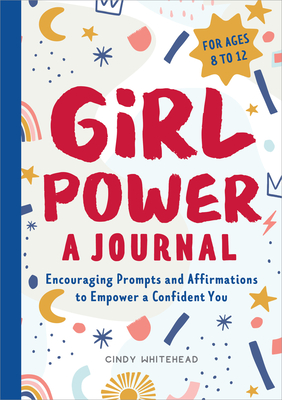 $12.99

Usually Ships in 1-5 Days
Description
---
Help girls ages 8 to 12 find their strength and succeed
Girl power encourages and celebrates all girls—which means every girl's version of girl power is equally awesome! And this journal helps girls discover what girl power means to them. They'll dive into writing prompts that make them think and drawing prompts that challenge their creativity as they practice being brave, confident, and powerful.
What sets this book apart from other books for girls:
The power of words—Teach tween girls that journaling regularly can help them understand their thoughts and feelings and become the strongest version of themselves.
It's made for tweens—Girls will explore a journal that's designed especially for them, no matter where they're from or what their lives are like.
It's more than just a journal—Find fun facts about awesome girls throughout history, along with activities like easy meditations and positive affirmations.
Inspire self-love and determination in young girls with this empowering guided journal.
About the Author
---
CINDY WHITEHEAD is a professional skateboarder, writer, and activist. At 15, she published a featured article in a skateboarding magazine, where she spoke out about being one of the only girls in a male-dominated sport. She's the author of two books and runs the movement Girl is NOT a 4 Letter Word. Her skateboarding history sits in the Smithsonian Museum of American History's Sports Collection.
Praise For…
---
"Cindy Whitehead's contribution to female skateboarding is immeasurable. Girl Power: A Journal will help thousands of young women, giving them the confidence and empowerment they need to make their own incredible journey in life. The perfect gift for a daughter, niece, or granddaughter." —Glenn Sakamoto, editor, Liquid Salt Magazine

"Cindy Whitehead is the very definition of girl power; a pro skateboarder when it was a boys' club, the founder of Girl Is Not A 4 Letter word, inducted into the Skateboarding Hall Of Fame 2016, author, successful businesswoman, and a fierce supporter of women's rights. Cindy dishes out excellent advice for all the girls, no matter their age, and she doesn't mince words. As a woman in business, I appreciate her dedication to the women's movement and highly recommend her book." —Heidi Lemmon, executive director Skate Park Association International and brand manager for Salt Rags LLC

"Every girl should know their power! Girl Power: A Journal contains the tools that every girl young and old should empower to take on life. The prompts and affirmations are the perfect way to encourage positive thinking and instill a life-changing outlook." —Elise Crigar, director of Social Media, World Surf League

"Cindy is a trailblazer and an inspiration. Her proactive nature and support of the girl skater community is a force to be reckoned with. And now, with Girl Power: A Journal, any preteen (or anyone, really) can have a little piece of Cindy in their court to help navigate themselves through each day and learn to be confident and supportive human." —Jenny Sampson, photographer and author of Skaters and Skater Girls

"Cindy's latest book is an inspiration for girls everywhere. A place for girls to write and dream. This book encourages girls to be themselves and celebrates them exactly how they are. A wonderful gift for any girl in your life. It will help build their confidence! Love it!" —Christin Rose, founder of She Plays, We Win