The Daily Feelings Journal for Kids: A Year of Prompts to Help Kids Recognize Emotions and Express Feelings (Paperback)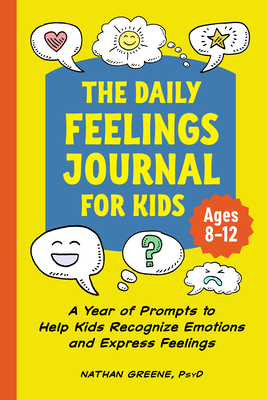 $11.99
Email or call for price.
Description
---
Help kids get to know their feelings with daily prompts for ages 8 to 12
Learning to recognize feelings and express them in a healthy way is an important part of growing up, and it helps kids discover new things about themselves and the world around them. This mindfulness journal is their guide to getting comfortable with their emotions, with daily entries for tracking their feelings and weekly prompts that encourage them to dive deeper into specific feelings.
This feelings journal will inspire kids to:
Journal all year long—Kids will get the chance to write about their feelings every day for an entire year with a mix of short entries and longer, more thought-provoking prompts.
Learn about lots of emotions—This journal for kids will help them learn how to work through positive and negative feelings, like anger, sadness, happiness, fear, and gratitude.
Explore all kinds of activities—From playing a song that makes them feel happy to writing a letter to an imaginary friend, kids will find real-life exercises that help them understand their emotions.
Give kids the tools to befriend their feelings with this empowering guided journal.
About the Author
---
NATHAN GREENE, PSY.D., is a clinical psychologist in private practice in Oakland, CA. He's also a cofounder and facilitator of Surf Circle, a therapeutic surf program for adolescent boys, which combines surf lessons and group therapy on the beach. Get in touch with Dr. Greene and learn about his work at www.drnathangreene.com and www.surfcircle.org.
Praise For…
---
"Dr. Nathan Greene's book is a year full of thoughtful prompts that encourages children to befriend their feelings, even those feelings that might be uncomfortable. He gently guides a daily practice of reflection with ideas sprinkled throughout about self-regulation and expression. The Daily Feelings Journal for Kids is a wonderful book for kids as a tool to build emotional intelligence and hopefully family dialogue." —Adam Moss, PsyD, clinical psychologist

"Dr. Nathan Greene is tuned into helping kids learn how to listen to their feelings. The Daily Feelings Journal for Kids is an interactive tool to promote emotional awareness that kids will surely enjoy." —Mary Lamia, PhD, clinical psychologist, professor, and author

"What a fantastic resource for kids to help strengthen their emotional development and overall mental health! The fun and interactive activities will certainly resonate well with young readers. As a child psychologist, I will definitely be recommending this to my clients and their parents." —Anatasia S. Kim, PhD, professor, author, and child psychologist

"As a mom of boys and a psychologist, I am thrilled to welcome this amazing resource into my personal life and professional practice. Dr. Greene has created a wonderful psychoeducation tool that will help kids and parents alike." —Alicia del Prado, PhD, psychologist, and author of Proud of my Mommy