Hacks for Minecrafters: The Unofficial Guide to Tips and Tricks That Other Guides Won't Teach You (Hardcover)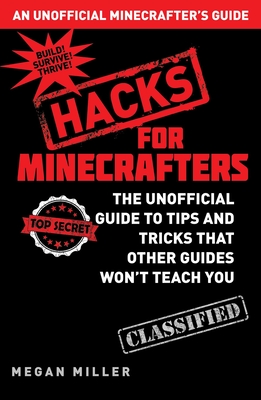 $12.99
Email or call for price.
Description
---
A New York Times Best Seller!

This adventure series is created especially for readers who love the fight of good vs. evil, magical academies like Hogwarts in the Harry Potter saga, and games like Minecraft, Terraria, and Pokemon GO.

With more than 100 million registered players, Minecraft has taken control of gamers all over the world. With Hacks for Minecrafters, you'll be able to take back that control! Only with the help found in Hacks for Minecrafters will you be able to craft your world exactly how you want it to look, all while discovering the hidden gems of the game.

In this hacker's guide, you'll find expertise on:
Mining—including diamonds and rare minerals!
Farming—growing tricks, seed hacks, and the best tree-replanting techniques!
Battle—for the best weapons and armor!
Magic—top crafting hacks and book modifiers!

You will never be stuck again! With more than one hundred full-color screenshots of in-game footage, you'll be able to carefully follow every tip with precision. It doesn't matter if you're playing on a PC, mobile device, or home console; with Hacks for Minecrafters, you'll be beating the game in no time. Every block has been accounted for, all living entities have been taken into consideration, and all modes of game-play are covered!
About the Author
---
Megan Miller was born in Talara, Peru, and from there grew up in Miami, Barcelona, and the suburbs of London, England. She's also lived in Houston, Austin, NYC, the Hudson Valley, Kentucky, and finally New Mexico. She plays Minecraft daily, and has also spent many hours in the past with arcade game Centipede, the first Castle Wolfenstein shooters, the first color Mac space shooter Crystal Quest, The Sims, Sim City (1-3), City Skylines, Civilization, and more. You can contact her through her website, meganfmiller.com - (see you there!)