Mrs. March: A Novel (Hardcover)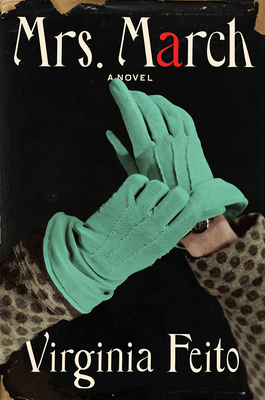 $26.00
Email or call for price.
Staff Reviews
---
It is not often that I reread a debut work almost instantaneously, but Mrs. March clawed her way over my waiting stacks and into my hands for two consecutive curl-up-and-read-the-whole-thing days. I can't wait to discuss Mrs. March with customers . . . perhaps over a freshly baked loaf of olive bread.
— From
Indies Introduce!
Description
---
"I read Virginia's novel in one sitting and was so captured by it I knew I had to make it and play Mrs. March. As a character, she is fascinating, complex, and deeply human and I can't wait to sink my teeth into her." —Elisabeth Moss
Oprah Daily • Best Books of the Year

New York Times Book Review • Editors' Choice

USA Today • Books Not to Miss
Who is Mrs. March?
George March's latest novel is a smash. No one could be prouder than his dutiful wife, Mrs. March, who revels in his accolades. A careful creature of routine and decorum, she lives a precariously controlled existence on the Upper East Side until one morning, when the shopkeeper of her favorite patisserie suggests that her husband's latest protagonist—a detestable character named Johanna—is based on Mrs. March herself. Clutching her ostrich leather pocketbook and mint-colored gloves, she flees the shop. What could have merited this humiliation?
That one casual remark robs Mrs. March of the belief that she knew everything about her husband—and herself—thus sending her on an increasingly paranoid journey that begins within the pages of a book. While snooping in George's office, Mrs. March finds a newspaper clipping about a missing woman. Did George have anything to do with her disappearance? He's been going on a lot of "hunting trips" up north with his editor lately, leaving Mrs. March all alone at night with her tormented thoughts, and the cockroaches that have suddenly started to appear, and strange breathing noises . . . As she begins to decode her husband's secrets, her deafening anxiety and fierce determination threaten everyone in her wake—including her stoic housekeeper, Martha, and her unobtrusive son, Jonathan, whom she loves so profoundly, when she remembers to love him at all.
Combining a Hitchcockian sensibility with wickedly dark humor, Virginia Feito, a brilliantly talented and, at times, mischievous newcomer, offers a razor-sharp exploration of the fragility of identity. A mesmerizing novel of psychological suspense and casebook insecurity turned full-blown neurosis,
Mrs. March
will have you second-guessing your own seemingly familiar reflection in the mirror.
About the Author
---
A native of Spain, Virginia Feito was raised in Madrid and Paris. She studied English and drama at Queen Mary University of London, and advertising at Miami Ad School. She lives in Madrid, where she writes her fiction in English.
Praise For…
---
[Feito] manages to capture this world entirely, while simultaneously ratcheting up the tension caused by Mrs. March's increasingly fractured psyche, in a way that recalls novels by Patricia Highsmith and Margaret Millar. And like these predecessors, Feito explores issues of autonomy, insecurity and madness, all wrapped up in the domestic life of a housewife whose whole being has been shaped and molded by how she believes others view her. Feito works hard to make sure readers know that there is something amiss in this character's fragile mind.... The final pages are shocking... readers may find themselves tempted to return to the beginning in order to understand just what Feito has so convincingly managed to achieve within her accomplished debut.
— Christine Mangan - New York Times Book Review

Essential reading for the social media era.... [A] brilliant debut novel.... A brilliantly tense psychological study from a writer who keeps pace with the grandees she invokes – Du Maurier, for one.... It's also a fine addition to the current wave of feminist-inflected horror.... But what makes Mrs March most unsettling of all is that Feito's meticulous construction of a collapsing mental world is underpinned by piercing insight into "normal" minds. The chilly paranoia that Mrs March experiences, the belief that everyone is judging her as she is judging them, the appalling prospect that she is known not on her own terms, but as someone else has portrayed her – all these are the regular nightmares of the regular status-hungry person in the social media hall of mirrors.... Feito has done that most horrible, wonderful and truly novelistic of things: she has seen right through Mrs March and into the shameful, petty, maggotty secrets that everybody carries.
— Sarah Ditum - The Guardian

As literary as it is pulpy, Mrs. March straddles the line between psychological thriller and social satire — think HBO's The Undoing or The Talented Mr. Ripley. Like those blockbuster titles, Mrs. March portrays a rarefied world as hellish Grand Guignol. The pleasure of the book is in watching all that psychotic menace come out into the open, and in trying to figure how much of it is actually real. Mrs. March might think she sees a woman across the street drenched in blood—but what if she's simply had too much wine? She might believe the figures in a painting have turned their backs on her—but what if she's just crazy?.... Indeed, for all its gleeful nastiness, Mrs. March is very much a comedy of manners—one where every Vicuna scarf and monogrammed napkin signifies something greater than itself.

— Harrison Hill - Vogue

Feito's noirish debut novel left me rapt, gleefully ambivalent about her eponymous protagonist: did I like her? Did I find her funny? Did I want to hug her? Was I bit a scared of her? Did I relate to her? To all of the above: yes.... This is an elegant, claustrophobic psychological thriller that bears the influence of a handful of brilliant writers, from Shirley Jackson to Daphne du Maurier to Patricia Highsmith, but feels incredibly original. The film is bound to be gorgeous – the Hitchcockian foreboding and stifling, velvety interiors feel made for the screen – but read the book first. Mrs March is the most beguiling protagonist I've encountered in a long time; I can't remember when I was last so excited about a new voice in fiction.
— Jessie Thompson - Evening Standard

[A] vicious, gorgeous thriller.... A little bit Hitchcock, a little bit Patricia Highsmith, a little bit "The Yellow Wallpaper".... There's a relentless build to this book, a gnawing dread that sets in early and never quite lets up. And between Feito's silver-polish sentences and her eerie psychological acumen, you don't want it to.
— Constance Grady - Vox

Mrs. March is painfully aware of [genre] tropes and leans into them so far as to subvert them.... By initially setting up Mrs. March as a domestic thriller that comments on the relegation of women to the home and the elevation of men's careers and creative pursuits, the perfect foundation is laid for Mrs. March to escape all of that and fantasize—and materialize—that she's in her own crime novel, taking the dead girl muse trope into her own hands.... Masterful.
— Scarlett Harris - Observer

I delighted in every page of this clever, twisted debut.... Feito's fiendish narrator presents Mrs. March to readers like a fine wine, uncorked, zooming in and out of Mrs. March's paranoia as her psyche unravels. This book is an intoxicating experience.
— Carole E. Barrowman - Milwaukee Journal Sentinel

Mrs. March is window-dressed to perfection as a psychological thriller-cum-cosmopolitan grotesque.... [Mrs. March] could be describing Feito's novel when she refers to the life of the prostitute in George's book as 'something so ugly described so beautifully.

— Nell Beram - Shelf Awareness

In a horror-laced psychological drama, the wife of a bestselling New York novelist learns his latest protagonist is modeled on her . . . Abandoning her purchases, [Mrs. March] bolts from the store, never to return, and immediately confronts an advertisement featuring a woman smiling knowingly under the words 'SHE HAD NO IDEA.' Even the billboards know! This is just one of innumerable creepy details that speed Mrs. March's descent into a spiraling vortex of psychosis . . . Feito is Spanish and lives in Madrid, but somehow she is the love child of Patricia Highsmith and Shirley Jackson. On her way to the screen played by Elisabeth Moss, Mrs. March is absolutely right—everyone is talking about her.
— Kirkus Reviews, starred review

Feito locks the reader up inside the fracturing psyche of a woman of privilege ... through excruciatingly precise renderings of grotesque delusions... Feito masterfully orchestrates the bewildering horrors of Mrs. March's breakdown... Feito's bravura gothic thriller brilliantly exposes monstrous consequences of covert neglect and cruelty.
— Donna Seaman, Booklist

[An] elegantly written, unflinchingly observed debut.
— Publishers Weekly

Mrs. March's flights of fantasy... progress to psychotic episodes and flashbacks to her stoic upbringing; even readers will begin to question what is real and what is imagined.
— Edward Goldberg - Library Journal

Mrs. March is just the Madame Bovary-meets-Patricia Highsmith feminist psychoanalytic comedy-of-manners thriller that I didn't know I so desperately needed. I almost destroyed my life by staying up so late reading. I am lucky my house is still standing.

— Elif Batuman, author of The Idiot

Like Mrs. March herself, I spent most of Virginia Feito's trippy novel wondering, What the devil is going on? When she figured it out, I was haunted for days.
— Helen Ellis, author of American Housewife

This crisp, delicious portrait of a woman coming apart is a brutal, darkly funny, sharp blade of a book. I loved it.
— Amber Sparks, author of And I Do Not Forgive You