Big Data: Information in the Digital World with Science Activities for Kids (Build It Yourself) (Paperback)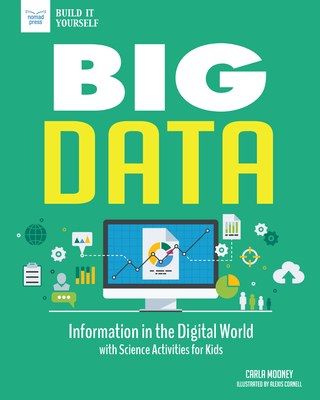 $17.95
Email or call for price.
Description
---
What is big data and what does it have to do with you?
Have you watched videos online today? Did you post photographs on social media? Did you upload your English essay to Google docs?
All of these questions are questions about data. Data is information. It can be stored in books, magazines, on graph paper, in computers, and with many other methods. Most of the data that exists today is stored in computers, and the amount of data humans produce is doubling every year and half. That's why it's called big data
In Big Data: Information in the Digital World with Science Activities for Kids, one of four titles in the Technology for Today set, kids ages 10 to 15 explore the definition of data and learn about the relationship between data, computers, and people. They learn about the history of data, the transition from paper to computers, and the role that search engines such as Google play in handling data. Data management, data analytics, and the history of computers are all topics covered in this book on big numbers for kids.
Data is something computer scientists think about a lot. A computer's capacity to function and perform is directly related to how much data it can store. A computer that can't store much data won't be very popular. As more and more of our daily lives become connected to computers--schoolwork, watching movies on a laptop, paying for snacks with a debit card--computers are required to handle more and more data. New improvements in data storage mean that there are fewer limits on the amount of data businesses can store, but what does that mean for users? How does data management make our lives easier? Do we need all of this information or are we storing data we'll never use again simply because we can?
Throughout Big Data, 25 STEAM investigations and experiments provide hands-on, problem-solving opportunities for students that incorporate various challenges and tools. Using readily available household items and recycled materials, each activity will take the reader through an inquiry-based, open-ended investigation that leaves plenty of room to explore individual creativity. With essential questions, fun facts, and links to online primary sources and videos, kids will mine the topic of big data and become better, more informed digital citizens of the world
In the Technology for Today set, readers ages 10 to 15 explore the digital and tech landscapes of today and tomorrow through hands-on STEAM activities and compelling stories of how things work, who makes them work, and why. Titles in this set include Industrial Design: Why Smartphones Aren't Round and Other Mysteries with Science Activities for Kids; Big Data: Information in the Digital World with Science Activities for Kids; Projectile Science: The Physics Behind Kicking a Field Goal and Launching a Rocket with Science Activities for Kids; and Artificial Intelligence: Thinking Machines and Smart Robots with Science Activities for Kids.
Nomad Press books integrate content with participation. Common Core State Standards, the Next Generation Science Standards, and STEM Education all place project-based learning as key building blocks in education. Combining content with inquiry-based projects stimulates learning and makes it active and alive. Nomad's unique approach simultaneously grounds kids in factual knowledge while allowing them the space to be curious, creative, and critical thinkers.

About the Author
---
Carla Mooney has written more than 70 books for children and young adults. She is the author of several books for Nomad Press, including Terrorism: Violence, Intimidation, and Solutions for Peace, Evolution: How Life Adapts to a Changing Environment, The Holocaust: Racism and Genocide in World War II, and Comparative Religion: Investigate the World through Religious Tradition. She lives in Pittsburgh, Pennsylvania.