Ordinary Girls: A Memoir (Hardcover)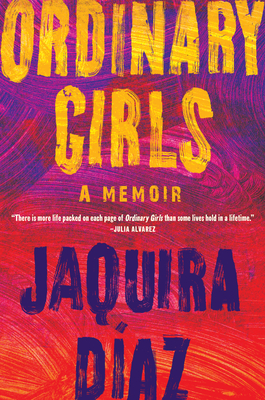 $26.95
Email or call for price.
November 2019 Indie Next List
---
"Too often, those of us who grow up below the federal poverty line spend the rest of our lives erasing ourselves. If we manage to migrate out of poverty, we do so at a cost. The gatekeepers of academia, and of literature, often only want to hear our stories if we make a spectacle of our people, or if we tell our stories in the language of the elite at the expense of our own voices. I think this is one of the most powerful things about Ordinary Girls. Díaz tells her sad and beautiful stories in her own voice, a voice that still holds the people and the places that made her. What a gift. Growing up poor means that we are taught, every day and in a million tiny ways, that our families are wrong, our speech is ugly, our stories shameful. This is oppression and Díaz banishes it with beauty, love, honesty, and insight. Ordinary Girls is a book that makes me feel less alone in this world."
— Tina Ontiveros, Klindt's Booksellers, The Dalles, OR
Summer 2020 Reading Group Indie Next List
---
"It takes a special writer to craft a memoir that's equal parts harrowing, hopeful, clear-eyed, and emotionally acute—and that's exactly what Jaquira Díaz has done here. She was still a child when her family moved from Puerto Rico to the slums of Miami, and she spent her teenage years negotiating a family life of addiction, dysfunction, and mental illness. Despite her experiences with crime and violence, Díaz finds solace in her friendships, strength in her heritage, and, always, a way forward. This is an utterly beautiful and vibrant book."
— Erika VanDam, RoscoeBooks, Chicago, IL
Description
---
One of the Must-Read Books of 2019 According to O: The Oprah Magazine * Time * Bustle * Electric Literature * Publishers Weekly * The Millions * The Week * Good Housekeeping

"There is more life packed on each page of Ordinary Girls than some lives hold in a lifetime." —Julia Alvarez 

In this searing memoir, Jaquira Díaz writes fiercely and eloquently of her challenging girlhood and triumphant coming of age.

While growing up in housing projects in Puerto Rico and Miami Beach, Díaz found herself caught between extremes. As her family split apart and her mother battled schizophrenia, she was supported by the love of her friends. As she longed for a family and home, her life was upended by violence. As she celebrated her Puerto Rican culture, she couldn't find support for her burgeoning sexual identity. From her own struggles with depression and sexual assault to Puerto Rico's history of colonialism, every page of Ordinary Girls vibrates with music and lyricism. Díaz writes with raw and refreshing honesty, triumphantly mapping a way out of despair toward love and hope to become her version of the girl she always wanted to be.

Reminiscent of Tara Westover's Educated, Kiese Laymon's Heavy, Mary Karr's The Liars' Club, and Terese Marie Mailhot's Heart Berries, Jaquira Díaz's memoir provides a vivid portrait of a life lived in (and beyond) the borders of Puerto Rico and its complicated history—and reads as electrically as a novel.
About the Author
---
Jaquira Díaz was born in Puerto Rico. Her work has been published in Rolling Stone, the Guardian, Longreads, The Fader, and T: The New York Times Style Magazine, and included in The Best American Essays 2016. She is the recipient of two Pushcart Prizes, an Elizabeth George Foundation grant, and fellowships from the MacDowell Colony, the Kenyon Review, and the Wisconsin Institute for Creative Writing. She lives in Miami Beach with her partner, the writer Lars Horn.
 
Praise For…
---
Winner of a Whiting Award for Nonfiction

"[Ordinary Girls] belongs on your must-read lists. Díaz is a masterful writer . . . Writing with refreshing honesty, she talks about despair, depression, love, and hope with such vibrancy that her vivid portrayal will stay with you long after the final page."
—O: The Oprah Magazine

"Every once in a while, a truly electric debut memoir comes along, and this fall, Ordinary Girls is it. It's the story of an ordinary girl; it's the story of all of the extraordinary girls. Díaz is a skilled writer; the depth of layering is strong, from the details to the larger structures of identity, white supremacy, colonialism, and brown, queer, and femme resilience and resistance."
—BuzzFeed

"A skilled writer, Díaz is meticulous in her craft, and on page after page her writing truly sings . . . This brutally honest coming-of-age story is a painful yet illuminating memoir, a testament to resilience in the face of scarcity, a broken family, substance abuse, sexual assault, mental illness, suicide and violence."
—New York Times Book Review
 
"Incredible . . .  Beautiful . . . Gorgeous and propulsive prose."
—NBC / Today (Isaac Fitzgerald) 

"Díaz does not flinch with the hard-hitting details of growing up in communities that deserve our wholehearted attention. She complicates how we imagine girlhood and offers a beautiful memoir written with so much love, compassion and intelligence. This book is a necessary read at a time where the system and the media is so often working against the survival of women of color. This book burns in the memory and makes one feel all the feelings. A triumph!"
—Bustle (Angie Cruz, author of Dominicana)

"A dynamic examination of the power of persistence."
—Time (Most Anticipated Books of Fall 2019)

"Outstanding. A powerful and lyrical coming-of-age story, Ordinary Girls is a candid illustration of shame, despair and violence as well as joy and triumph. Against a Puerto Rican backdrop, this debut is compassionate, brave and forgiving."
 —Ms. Magazine

"At once heartbreaking and throbbing with life in a rich portrait that's anything but ordinary."
—Good Housekeeping (The 50 Best Books of 2019 to Add to Your Reading List)

"There's a certain ferocity throughout the entirety of Ordinary Girls. For some of the book, it's humming like a hardworking engine—concealed under the hood, always present—but then there are moments when it combusts, bursting from the page in such a way that you, as a reader, have to pause and take a breath. Ordinary Girls is an electrifying, deftly-paced debut."
—Salon

"Diaz's resilience and writing abilities are far from ordinary; she's an emissary from an experience that many young women have. Listen."
—Refinery29

"A whirlwind memoir. Like Maya Angalou's seminal 1969 memoir I know Why the Caged Bird Sings before it, Ordinary Girls, is brutally honest in a way that few books dare to be."
—Bitch

"Striking. Díaz's story is absolutely breathtaking."
—NBC Latino

"A fierce, unflinching account of ordinary girls leading extraordinary lives."
—Poets & Writers
 
"Every so often you discover a voice that just floors you—or rather, feels like it can bulldoze something in your very soul. This fall, that voice belongs to Jaquira Díaz."
—The Week (25 Books to Read in the Second Half of 2019)

"In her debut memoir, Jaquira Díaz mines her experiences growing up in Puerto Rico and Miami, grappling with traumas both personal and international, and over time converts them into something approaching hope and self-assurance. For years, Díaz has dazzled in shorter formats—stories, essays, etc.—and her entrée into longer lengths is very welcome."
—The Millions (Most Anticipated: The Great Second-Half 2019 Book Preview) 

​"A powerful memoir, heart-wrenching, inspiring, thoroughly engrossing, reminiscent of Mary Karr's The Liar's Club, Maya Angelou's I Know Why the Caged Bird Sings, and more recently Tara Westover's Educated. Through one family's story, we learn about challenges of poverty, migration, uprootedness, addiction, sexism, racism—but also about the triumphant, spirited storyteller who survives to tell the tale. Jaquira Díaz is our contemporary Scheherazade, telling stories to keep herself alive and whole, and us her readers mesmerized and wanting more. And we get it: there is more life packed on each page of Ordinary Girls than some lives hold in a lifetime."
—Julia Alvarez, author of How the García Girls Lost Their Accents and In the Time of the Butterflies
Coverage from NPR