Ripley Twists: Snakes & Reptiles, 14 (Hardcover)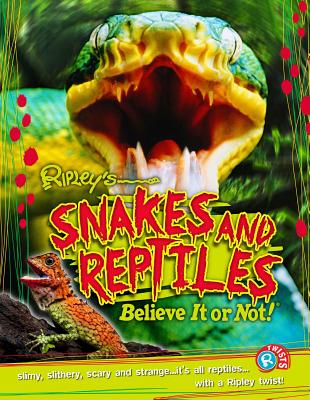 $14.89
Email or call for price.
Other Books in Series
This is book number 13 in the Twist series.
Description
---
Brand new for 2015, Ripley's Twists: Snakes and Reptiles is the latest title in the award-winning Ripley's Twists children's reference series. Bursting with amazing photography, compelling illustrations, and all-new content, this easy-to-read book presents scientific facts with the unbelievable Ripley stories young readers can't get enough of. Available individually or as part of a series, Ripley's Twists non-fiction books have proven popularity in classrooms, libraries, and homes all over the globe. You'll find hair-raising photographs and mind-blowing facts on every page of Ripley's Twists: Snakes and Reptiles, as well as unbelievable, weird and wonderful stories from Ripley's Believe It or Not (R) From the freaky frilled lizard, the flap-necked chameleon, and the leatherback sea turtle, to the ferocious fangs of such cold-blooded killers as boa constrictors, vipers, and more, readers will find science side-by-side with the scary, shocking, and even the silly in this 48-page, full-color, non-fiction book Discover the differences between snakes and other reptiles such as crocodiles, lizards, and turtles--and how they evolved from some of the earliest creatures on Earth.
About the Author
---
Ripley's Believe It or Not! is globally renowned as the authority on the weird, the eccentric, and the amazing. Ripley's Believe It or Not! provides entertaining books for children of all ages which educates and informs them in a humorous style. The Ripley brand is known around the world as a trend-setting source of family-friendly fun and excitement! Every day the researchers at Ripley's are busy digging up the craziest true stories and the most unbelievable facts.