We Heard It When We Were Young (Paperback)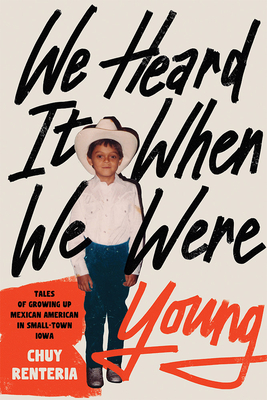 $16.00

Usually Ships in 1-5 Days
Description
---
Most agree that West Liberty is a special place. The first majority Hispanic town in Iowa, it has been covered by media giants such as Reuters, Telemundo, NBC, and ESPN. But Chuy Renteria and his friends grew up in the space between these news stories, where a more complicated West Liberty awaits. We Heard It When We Were Young tells the story of a young boy, first-generation Mexican American, who is torn between cultures: between immigrant parents trying to acclimate to midwestern life and a town that is, by turns, supportive and disturbingly antagonistic.

Renteria looks past the public celebrations of diversity to dive into the private tensions of a community reflecting the changing American landscape. There are culture clashes, breakdancing battles, fistfights, quinceañeras, vandalism, adventures on bicycles, and souped-up lowriders, all set to an early 2000s soundtrack. Renteria and his friends struggle to find their identities and reckon with intergenerational trauma and racism in a town trying to do the same. A humorous and poignant reflection on coming of age, We Heard It When We Were Young puts its finger on a particular cultural moment at the turn of the millennium.
 
About the Author
---
Chuy Renteria, a b-boy since the age of fourteen, is a central figure in the Iowa dance scene, and is also the public engagement coordinator for Hancher Auditorium. Renteria's stories have been published in We the Interwoven. He lives in Iowa City, Iowa.
Praise For…
---
"Full of heart and humor, We Heard It When We Were Young reframes the American narrative in a way that feels urgent. Renteria's nostalgia-wrapped traumas of growing up—the visceral violence, continuous reckonings, and complex friendships—shatter and mend your heart all at once. In this poignant debut, Chuy Renteria does not hold back, examining the past with an honesty that gives you chills from beginning to end. Above all, the love Renteria has for the unique Iowa town of West Liberty shines unapologetically through."—Xochitl Gonzalez, author, Ogla Dies Dreaming

"A heartfelt and vibrant debut, We Heard It When We Were Young chronicles an important Iowan narrative from a first-generation Mexican immigrant perspective. Chuy Renteria's conversational storytelling is by turns funny and wrenching as he explores the cultural dissonance between neighbors and within families as one small Iowa town evolves."—Rachel Yoder, author, Nightbitch

"Chuy Renteria writes what no one else can. He writes as a b-boy, a first-generation Mexican American, a small-town Iowan, a friend, a son, and a brother. The result is part bildungsroman and part unique socio-cultural exploration. His writing is fascinating, moving, and full of kinetic style."—Jennifer Colville, author, Elegies for Uncanny Girls

"We Heard It . . . is an important move for midwestern studies. Renteria's memoir not only challenges the pervading cultural framework of whiteness in the Midwest, it also simultaneously engages with a wide range of readers by appealing to the common small-town experience."—Middle West Review