Las Vegas in the Rearview Mirror: The City in Theory, Photography, and Film (Paperback)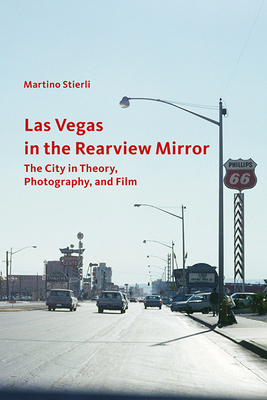 $70.00
Email or call for price.
Description
---
Learning from Las Vegas, published in 1972 by the architects Robert Venturi, Denise Scott Brown, and Steven Izenour, marks the turn in architectural theory from modern to post-modern. Martino Stierli explores the significance of this controversial publication by situating it in the artistic, architectural, and urbanist discourse of the 1960s and '70s, and by evaluating the book's enduring influence on visual studies and architectural research. Stierli provides an original, in-depth analysis of the postmodern image of the city and the representation of urban form in visual media, graphics, and typography.

Referencing cinematic visualization, the authors of Learning from Las Vegas documented a sprawling postwar American city from a moving car. Stierli examines this methodology against the background of contemporary pop and conceptual art, including the work of artists Ed Ruscha and Stephen Shore. Using both text and image, Stierli assesses the broad intellectual impact of this architectural manifesto and explains why the lessons from Learning from Las Vegas remain relevant today.


About the Author
---
Martino Stierli holds a Swiss National Science Foundation Professorship at the Institute of Art History at the University of Zürich and is a freelance curator. He is widely published and the author of Venturi's Grand Tour: Zur Genealogie der Postmoderne (Standpunkte Basel, 2011).
Praise For…
---
"When published in 1972, Learning from Las Vegas (CH, Mar'73) met a storm of protest because it seemed to sanctify so much that long had been cast as detritus, including parking lots and enormous, "garish" signs. But for the authors (architect Robert Venturi; his wife, planner Denise Scott Brown; and their associate, Steven Izenour), the Strip in Las Vegas represented the quintessential expression of the contemporary American city—an archetype that should afford a basis for developing designs that were meaningful to the public. In the past 40-plus years, the book—arguably among the most important 20th-century publications on urbanism—has had an enduring impact on the way many people think about and shape the urban environment at home and abroad. Stierli (Univ. of Zurich, Switzerland) here provides a meticulous assessment of the context in which that book was written. His new book is rich with insights about Venturi and Scott Brown, underscoring the latter's essential role in the study. But Stierli's most important contribution is providing a fresh examination of planning, design, and critical thinking about the built environment in the US and Europe during the third quarter of the 20th century for specialists concerned with that subject. Summing Up: Essential. Upper-level undergraduates and above." —Choice

Las Vegas in the Rearview Mirror brings to bear an impressive array of sources, a profound knowledge of architectural history and urbanism, as well as numerous contextual disciplines, to dissect Learning from Las Vegas as a research seminar, a published artifact, a sophisticated analytical program, an ideological statement, and the epicenter of a debate about the form of the American city."—Artillery Magazine

"Martino Stierli examines Learning from Las Vegas as an urbanist analysis, within the artistic and architectural context of 1960s–70s pop culture, high and low art, and urban forms."—Book News