The Super Duper Joke Book (Volume 1): Jokes for Everyone! Jokes For Every Occassion! Jokes for Every Situation! (Paperback)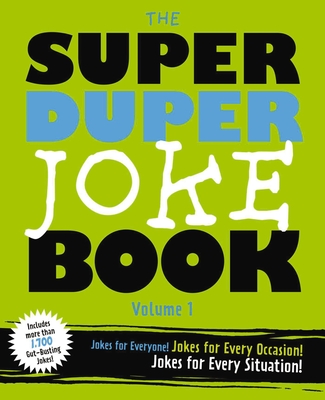 $9.99
Email or call for price.
Description
---
Get ready to bust out your best humor with this side-splitting joke book packed with over 1,700 hilarious jokes, pithy puns, and wisecracking wordplay perfect to liven up any conversation.

Why should you never play chess with a leopard? What about what an elephant brings with him on vacation? Find out the punchlines of these jokes and more with this amazing joke book for kids of all ages. The Super Duper Joke Book Volume 1 is packed with over 1,700 of the best, kid-friendly jokes and is a must-have for pranksters (and punsters) everywhere. This silly big book of jokes is sure to put a smile on anyone's face. And with this many jokes to choose from, you'll be hard pressed to pick your favorite! Become the stand-up comic of your dreams with situational jokes, animal puns, and new takes on the classic knock-knock joke.
About the Author
---
The Editors of Cider Mill Press craft high-quality cookbooks, elegant wine and spirits projects, humorous parodies, classic children's books, and more.