The Gate (Paperback)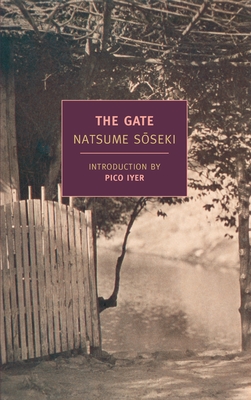 $19.49

Usually Ships in 1-5 Days
Description
---
An NYRB Classics Original

A humble clerk and his loving wife scrape out a quiet existence on the margins of Tokyo. Resigned, following years of exile and misfortune, to the bitter consequences of having married without their families' consent, and unable to have children of their own, Sōsuke and Oyone find the delicate equilibrium of their household upset by a new obligation to meet the educational expenses of Sōsuke's brash younger brother. While an unlikely new friendship appears to offer a way out of this bind, it also soon threatens to dredge up a past that could once again force them to flee the capital. Desperate and torn, Sōsuke finally resolves to travel to a remote Zen mountain monastery to see if perhaps there, through meditation, he can find a way out of his predicament.
      
This moving and deceptively simple story, a melancholy tale shot through with glimmers of joy, beauty, and gentle wit, is an understated masterpiece by one of Japan's greatest writers. At the end of his life, Natsume Sōseki declared The Gate, originally published in 1910, to be his favorite among all his novels. This new translation captures the oblique grace of the original while correcting numerous errors and omissions that marred the first English version.
About the Author
---
Nastume Sōseki (1867–1916) was born the youngest of eight children during the last year of the Tokugawa shogunate in Edo, the city shortly to be renamed Tokyo, and became the defining writer of the Meiji period (1868–1912). Raised by foster parents until he was nine, he made a faltering start at school but soon displayed a special aptitude for Chinese studies and later for the English language, ultimately earning an advanced degree in English literature. As an
undergraduate at Tokyo Imperial University, he published an essay on Walt Whitman that introduced the poet's work to Japan. After teaching for several years, Sōseki was sent in 1900 to England for two years by the Ministry of Education. Upon his return he succeeded Lafcadio Hearn in the English department at Tokyo Imperial University. Sōseki published his first work of fiction in 1905, the opening chapter of what would become the famous satirical novel I Am a Cat. In 1907, offered a position with the Asahi Newspaper publishing company, he left teaching to become a full-time writer, and proceeded to produce novels at the rate of one a year until his
death from a stomach ulcer in 1916. Other major works to have appeared in English translation include Botchan, Kusamakura, The Miner, and Kokoro.

William F. Sibley (1941–2009) was a professor of East Asian languages and civilizations at the University of Chicago. A translator of Japanese fiction and nonfiction, Sibley was at work on Sōseki's First Trilogy, comprising Sanshirō, And Then, and The Gate, at the time of his death.

Pico Iyer is the author of several books, including Video Night in Kathmandu, The Lady and the Monk, The Global Soul, and, most recently, The Man Within My Head. He is a frequent contributor to The New York Review of Books and Harper's. He lives in Japan.
Praise For…
---
"I especially remember the strong sense of identification I  felt with The Gate, the story of a young married couple living in far-from-ideal circumstances." —Haruki Murakami

"Released in 1910, The Gate is among top Japanese novelist Sōseki's best-know works. A man suddenly abandons his loving wife to enter a life of contemplation in a Zen temple. He goes looking for answers but finds only more questions." —Library Journal
 
"A sensitive, skillfully written novel by the most widely read Japanese author of modern times." —The Guardian

"Soseki had a genius for sensitively depicting souls in torment.  The novel is about the marriage of Sosuke and Oyone….The Gate beautifully shows the way their relationship is suffused with both love and remorse, constantly reminding them of their pain while also acting to soothe it.... The Gate concludes with a poignant diminuendo, where Soseki takes leave of his couple with a scene of quiet and bittersweet domesticity. The sign of his greatness is that those last, longing notes sound as clearly now as when they were written." —Sam Sacks, The Wall Street Journal

"An empathetic portrayal of character dovetailing with Nietzschean and Zen thought…[Soseki] never stopped being a hard-boiled intellectual with a mercilessly ironic vision — and he never stayed still." —Damian Flanagan, The Japan Times

"Sōseki's prose is so delicate that each page is like looking at a set of dreamy watercolors.' —Sunday Telegraph
 
"The Gate is not so much tragic or comic as a graceful balance between the dispiriting and the humorous. It is surely the kind of writing we need. A masterpiece of taste and clarity." —New Statesman
 
"The Gate is almost devoid of dramatic incidents, but halting conversations of a quite ordinary husband and wife have a peculiar poignance because their love is the one abiding element in their lives. The descriptions of Sōseki's house and its surroundings are as precise as in a Naturalist novel, and the atmosphere of almost featureless days is unfalteringly conveyed, but the novel never becomes boring, no doubt because of the excellence of the writing." —Donald Keene