Make a Splash!: A Kid's Guide to Protecting Our Oceans, Lakes, Rivers, & Wetlands (Paperback)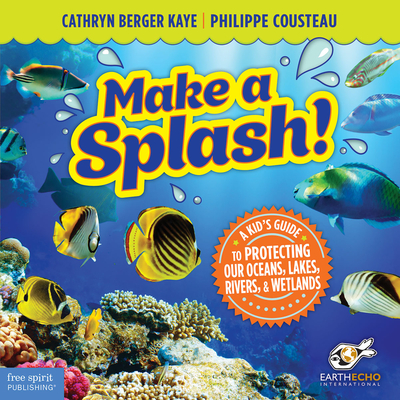 $13.99
Email or call for price.
Description
---
This elementary-level counterpart to the award-winning Going Blue: A Teen Guide to Saving Our Oceans, Lakes, Rivers, & Wetlands teaches elementary kids about the earth's water crisis and empowers them to do something about it. Filled with facts about our waters, their inhabitants, and the threats they face, Make a Splash! presents inspiring stories of kids in action and practical tips for making a difference. In fun and age-appropriate language, kids are introduced to the ideas behind service learning—a rapidly growing teaching strategy that combines academic learning and community service. Kids interested in nature and the environment will enjoy Make a Splash! Service learning groups, youth groups, science teachers, and teachers of conservation and environmentalism units will find it a valuable resource. The back matter includes book and Web resources as well as an afterword for adults, and a teacher's guide is available online.
About the Author
---
Cathryn Berger Kaye, M.A., is an international service learning and education consultant and a former classroom teacher.
She presents at conferences around the world and works with state departments of education, university faculty and students, school districts, and classroom teachers on a variety of education issues such as service learning, civic responsibility, student leadership, and respectful school communities.
Cathryn lives in Los Angeles with her husband, Barry, and frequently visits her daughters, Ariel and Devora.
Praise For…
---
"Make A Splash! clearly illustrates how various water issues affect people, animals, and the environment while providing young people practical ways to improve their local water sources. Full of great stories, facts, and tools, Make A Splash! is an excellent resource to help youth plan water-focused service learning adventures in their own backyards."
— Jane Goodall's Roots & Shoots, a program of the Jane Goodall Institute

Written in an informal, almost chatty style, this readable narrative provides a solid base of scientific information and flows from one topic to the next smoothly and logically. Interesting facts are highlighted in text boxes of different shapes and colors, and questions are asked and answered throughout. The author uses italics to accentuate important information, e.g., "…nearly two-thirds of all the fish and shellfish we eat once lived in estuaries." Terms, with pronunciation guides, are defined in context. Full-color photographs and drawings as well as line drawings (think coloring books) illustrate every page. Good ideas for water conservation from second graders at a Texas elementary school are sprinkled throughout in droplet-shaped boxes. Boys and girls from around the world are featured, and a lot of doable activities are suggested for individuals and groups. Jam-packed with readily accessible information and ideas, this is an engaging addition to science and environmental collections.
— School Library Journal

"The first time a child sees an ocean or a great river, magic happens. Make A Splash! reaches for the hearts of all young people who love wild water, and who want to do something to keep it pure and everlasting."
— Carl Hiaasen, author of Chomp

"A comprehensive, entertaining primer that focuses equally on water conservation and on how children learn and can act on their knowledge and interests. Former teacher Kaye provides a multitude of conservation approaches, including a series of 'Kids in Action' profiles that will encourage young readers to tackle and accomplish valuable community service projects."
— ForeWord Reviews

Similar to Kaye and Cousteau's Going Blue (2010) in its approach, this large-format paperback targets a younger audience. Clearly reproduced on glossy pages, eye-catching colorful photos and digital drawings illustrate many aspects of water on Earth, while the text provides information and tells stories of children in elementary schools around the world who have translated their own environmental concerns into action. The presentation jumps from topic to topic, and potentially unfamiliar terms such as estuary are discussed but not always clearly defined. However, while more traditionally informative books often end with tepid lists of tips on water conservation, this one infuses every chapter with inspiration and gives dozens of examples in which kids are agents of change in their communities. Creating an energizing, upbeat tone, the writers don't plead for help; they ask, "Which kind of action will you choose?"—
— Booklist

"This excellent book not only gives readers interesting information that is presented in a clever and engaging way, but it also empowers children by showing them that there are lots of things that they can do to save the world's water." 
— Through the Looking Glass Children's Book Review

"Fun and motivational! Kids will love learning about our important, fragile, and challenged water planet. Make a Splash! will inspire them to do what they can to protect, restore, and advocate for all natural systems that support life." 
— Laura Turner Seydel, Captain Planet Foundation

"An inspiring and kid-friendly introduction to the challenges facing our oceans and  waterways, Make a Splash! gives kids all the tools they need to become champions for the environment and really make a difference. A great resource for anyone who wants to protect our waters—and have fun doing it." 
— Greg MacGillivray, IMAX Producer/Director, MacGillivray Freeman Films and Founder of One World One Ocean