Words Are Not for Hurting (Best Behavior® Board Book Series) (Board book)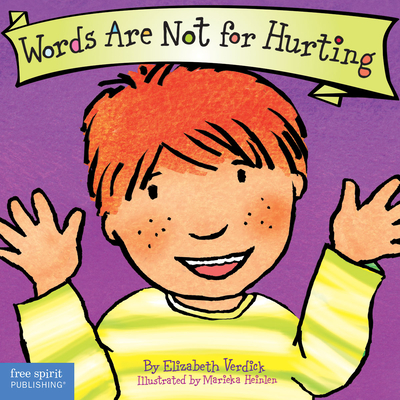 $9.99

Usually Ships in 1-5 Days
Description
---
Some of your words are kind. But some of them are not. Words are not for hurting. What do hurtful words do?"

Children are known for speaking their minds. We can't expect them to watch every word, but we can help them to understand that their words affect other people. We can gently guide them to choose words that are helpful instead of hurtful, and to say two very important words—"I'm sorry"—when hurtful words come out before they can stop them.

Like Free Spirit's earlier board books Hands Are Not for Hitting and Teeth Are Not for Biting, Words Are Not for Hurting helps little ones learn big ideas: that they are responsible for what they do and say; that their actions and words affect others; and that they can make positive choices. Simple words and delightful full-color illustrations make it perfect for reading aloud one-on-one or in small groups. The book also includes helpful tips for parents and caregivers.

About the Author
---
Elizabeth Verdick is a children's book writer and editor. She lives in Minnesota with her husband and their two children. Marieka Heinlen launched her career as a children's book illustrator with the award-winning Hands Are Not for Hitting. As a freelance illustrator and designer, Marieka focuses her work on books and other materials for children, teens, parents, and teachers. She lives in St. Paul, Minnesota, with her husband and son.
Praise For…
---
Normal0falsefalsefalseEN-USX-NONEX-NONEMicrosoftInternetExplorer4
Creative Child Magazine Seal of Excellence
iParenting Media Awards "Hottest Products" Winner
The National Parenting Center's Seal of Approval Winner
Oppenheim Toy Portfolio Gold Book Award Winner
Dr. Toy's Smart Play/Smart Toy Products Winner
"It's not always an easy feat to teach little ones about morals and the difference between right and wrong. But great news for you author Elizabeth Verdick is her to help you..."
— Baby Let's Shop blog
 "... not only fun for you and your little ones to cuddle up with at bedtime (or any other time for that matter), but they also teach the importance of using words in respectful and loving ways, and in ways that resolve conflict instead of escalating it."Heinlen's illustrations will capture a child's imagination as she gazes at an assorted mixture of children from many races."
— noirbaby.com
 "A useful tool for the classroom."
— Children's Literature