Hacks for Minecrafters: Command Blocks: The Unofficial Guide to Tips and Tricks That Other Guides Won't Teach You (Paperback)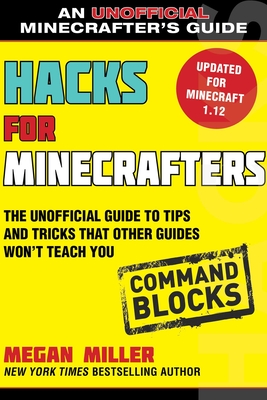 $7.99
Email or call for price.
Description
---
From the bestselling author of Hacks for Minecrafters comes the updated 1.13 guide to using command blocks in the world of Minecraft!
If you want to be the best at Minecraft, you've got to read up on the latest tricks. This book is packed with full-color screenshots showing the newest, coolest ways to use one of Minecraft's coolest features. With
Hacks for Minecrafters: Command Blocks
, kids will learn everything they need to know about manipulating and programming command blocks within Minecraft. As well as clearly explaining the commands and how to use them, this book has tons of fun tricks and projects for making your own custom maps and mini-games. Other tips cover:
Giving and getting loot
Putting any enchantment on a weapon
Customizing villagers
Supercharging mobs with data tags
Creating a massive fireworks display
Combining command blocks to make programs
Packed with expert tips, cheats, and hacks on command blocks, including a reference to commands, and block, item, and entity IDs, and exactly how you use them, and with over one hundred screenshots,
Hacks for Minecrafters: Command Blocks
shows exactly how the experts wield command blocks and make fun modifications to the Minecraft world.
About the Author
---
Megan Miller was born in Talara, Peru, and from there grew up in Miami, Barcelona, and the suburbs of London, England. She's also lived in Houston, Austin, NYC, the Hudson Valley, Kentucky, and finally New Mexico. She plays Minecraft daily, and has also spent many hours in the past with arcade game Centipede, the first Castle Wolfenstein shooters, the first color Mac space shooter Crystal Quest, The Sims, Sim City (1-3), City Skylines, Civilization, and more. You can contact her through her website, meganfmiller.com - (see you there!)