Go Team Venture!: The Art and Making of The Venture Bros. (Hardcover)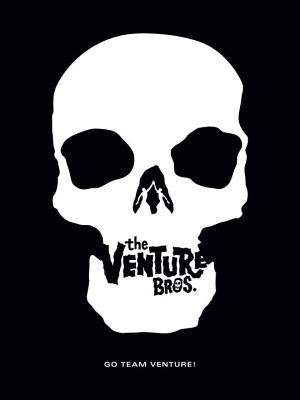 $39.99
Email or call for price.
Description
---
This oversized book is the comprehensive companion to the art and making of the The Venture Bros. and includes a foreword by Patton Oswalt! 

Ken Plume sits down with series creators Jackson Publick and Doc Hammer to have a conversation about the creation of every single episode through season six and much more. From the earliest sketches of Hank and Dean scribbled in a notebook, pitching the series to Cartoon Network's Adult Swim, learning the ins and outs of animation, character designs for each season, storyboards, painted backgrounds, behind-the-scenes recollections of how the show came together, it's all here.

Features behind-the-scenes info and art covering every episode of all six seasons.

Written by Venture Bros. creators Jackson Publik and Doc Hammer, with an introduction by Patton Oswalt.

An all-encompassing look at the characters, art, history and influences of the beloved series.

Never before seen Venture Bros. artwork!
About the Author
---
Christopher McCulloch, also known by the pseudonym Jackson Publick, is an American comic book and television writer, storyboard artist, and voice actor known for his work on several Tick properties and for the animated television series The Venture Bros. He and Doc Hammer are The Venture Bros. co-creators, writers, editors, and directors, producing the show through their animation company Astro-Base Go. McCulloch voices over 20 characters in the series, including Hank Venture, The Monarch, and Sergeant Hatred.