Our Otherness Is Our Strength: Wisdom from the Boogie Down Bronx (Hardcover)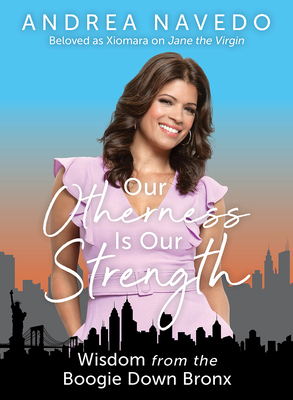 $19.99

Usually Ships in 1-5 Days
Description
---
Actress Andrea Navedo, best known for her role as Xiomara, Jane's mother, on The CW's Jane the Virgin shares hard-earned wisdom from the boogie down Bronx.
Andrea Navedo didn't get to see many positive portrayals of Latinas in the media growing up. So when she had the chance to play a starring role on Jane the Virgin, a role that cast her as a complex, flawed, and genuine Latina single mother, she jumped all over the opportunity.
Now, she shares bits of her story of growing up in ""da South Bronx--boogie down, burning""--to inspire young people who grew up like she did and who, after being counted out, still strive to succeed.
Expanding on her beloved commencement address to DeWitt Clinton High School and other speeches, Navedo offers the pithy, ghetto-honest, and at times laugh-out-loud funny lessons she learned from surviving abusive relationships, dealing with repeated rejection, and eventually triumphing in the entertainment industry. From how to listen compassionately to your own internal dialogue, to why fame and validation may not make you feel better about yourself, to how to never play the victim, she provides notes from life's trenches, the trenches of the South Bronx. She shows how the outer and inner challenges of what popular culture deems the horrors of places like the Bronx can instead be the very factors that bring out our superpowers.
For all who wish to take the reins on their own lives, especially in the face of hardship, trauma, discrimination, and inner doubts, Navedo's reflections, confessions, memories, and, most of all, hard-earned lessons help us realize our ""ghetto"" is the breeding ground for our self-actualization--our otherness is our strength.