Lust: A Seven Deadly Sins Novel (7 Deadly Sins #1) (Paperback)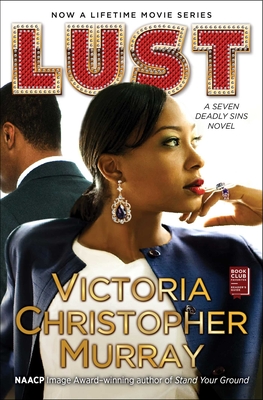 $16.99

Usually Ships in 1-5 Days
Other Books in Series
This is book number 1 in the 7 Deadly Sins series.
Description
---
The 7 Deadly Sins series that inspired four Lifetime original movies begins with this unputdownable novel about a woman caught between an entertainment mogul with a shady past and his childhood friend who is out for revenge—from the NAACP Image award winner and national bestselling author of The Personal Librarian.

Is lust a sin?

Tiffanie has lived a sheltered life in a very strict household with her pastor grandfather and her grandmother in Washington, D.C. But when she meets Damon, she falls for the successful entertainment businessman despite his history as a drug dealer. Everyone sees a bright future for the couple—yet when Tiffanie meets Trey, her lustful feelings leave her confused just days before her wedding.

Trey is Damon's childhood best friend with whom he built a successful drug business. But when the game got hot and Damon decided to leave, Trey stayed and continued to sell drugs until he was arrested and spent seven years in prison. Now he's out and able to attend the wedding. While Damon is thrilled to have Trey back and hopes to bring his best friend into his business, Trey has other plans. And in the end, there will only be one man standing...

Includes a reading group guide with an author Q&A and discussion questions for book clubs.
About the Author
---
Victoria Christopher Murray is the New York Times and USA TODAY bestselling author of more than thirty novels, including Stand Your Ground, a Library Journal Best Book of the Year and NAACP Image Award Winner. Her novel, The Personal Librarian, which she cowrote with Marie Benedict was a Good Morning America Book Club pick. Visit her website at VictoriaChristopherMurray.com.
Praise For…
---
LUST

"Murray has penned hot, steamy scenes in which her protagonist's imagination runs wild, followed by the consequences of her realizing her dangerous dreams. A jarring twist at the end has the reader wondering who the good guys really are." —Booklist (starred review)

"Murray mixes quite a bit of passion, a touch of treachery, and some good old-fashioned revenge."
— Library Journal

"A topsy-turvy tale of passion on steroids."
— Essence Magazine

STAND YOUR GROUND

"Stand Your Ground by Victoria Christopher Murray is a fact-to-fiction examination of the human condition. Using a vivid, realistic premise, she takes a 360-degree view to bring all sides to the forefront for us to enjoy, learn from, judge and celebrate. . . . The characters draw us in for debate and conversation long after the final sentence. Stand Your Ground has great literary relevance for our time."
— USA Today

"Murray, winner of several African American Literary Awards for fiction, powerfully captures the nuances and tragedies engendered by stand-your-ground laws. A must-read."
— Booklist (starred review)

"Murray has written a tension-packed novel around the hot-buzz national topic of an unarmed black youth shot by a white male, an act then subjected to the Stand Your Ground rule as a legal defense tactic. . . . Murray's writing admirably shows the often overlooked human emotions following racial violence. . . . The pulled-from-the headlines storyline will captivate readers."
— Library Journal (starred review)

"With artful descriptions, Victoria put me inside their hearts and minds. I did not just enjoy this read, I lived it."
— Michelle Lindo Rice, author of the Able To Love series

FOREVER AN EX

"Murray spices up her story line with plenty of juicy scandals. . . . Readers seeking an emotional tale with broad themes of trust, betrayal, and forgiveness will do well by choosing Murray's latest effort."
— Library Journal

FORTUNE AND FAME

"Murray and Billingsley's third and best collaboration."
— Essence magazine

"Murray and Billingsley keep things lively and fun."
— Juicy magazine

"This faith-based novel should keep devout fans on their toes."
— Upscale magazine

"A great choice for folks who spend Sunday mornings in the front pew."
— Library Journal

"Frenetic and deliciously slapstick sequel to Sinners & Saints . . . These frenemies [Rachel Jackson Adams and Jasmine Larson Bush] are drama queens at their best and smartest, a combination that will leave fans praying for their further misadventures."
— Publishers Weekly

NEVER SAY NEVER

"Murray creates a believable scenario of two people who never wanted to hurt their friends…. With extremely well-drawn characters, the story offers neither blame nor excuses, keenly depicting the heartbreaks caused by both death and betrayal."
— Publishers Weekly

"Readers, be on the lookout for Victoria Christopher Murray's Never Say Never. You'll definitely need to have a buddy-reader in place for the lengthy discussion that is bound to occur."
— USA Today

"Never Say Never is a testament to the magnificence of Murray's storytelling gift! The author creates a surprisingly satisfying ending for each of the characters, even when their 'sin' seems unforgivable."
— RT Book Reviews

THE EX-FILES

"The Ex Files is a moving-on song in four-part harmony."
— Donna Grant and Virginia DeBerry, authors of Tryin' to Sleep in the Bed You Made

"Once again, Victoria Christopher Murray has crafted a compelling, intriguing, and page-turning story that stays with you long after you've finished the book. This wonderful tale of four different women from vastly different backgrounds shows how we can all be bound by the common thread of faith."
— ReShonda Tate Billingsley, author of Everybody Say Amen and I Know I've Been Changed

"My girl, Victoria Christopher Murray has done it again! I love her work and this book will bless you, so read it."
— Michele Andrea Bowen, author of Church Folk, Second Sunday, and Holy Ghost Corner

SINNERS & SAINTS

"Double the fun, with a message of faith, Sinners & Saints will delight readers with two of their favorite characters from two of their favorite authors. It's a match made in heaven!"
— Grace Magazine

THE DEAL, THE DANCE, AND THE DEVIL

"I think I've found a new author to add to my list of favorites. . . . Murray knows how to tell a story.I can't wait to read other books by this author."
— Debbie Norrell, New Pittsburgh Courier

"Murray's characters are extremely likable. . . .This page-turning take on the Faustian theme should satisfy fans and newcomers alike."
— WalMart BookPage

SINS OF THE MOTHER

"Victoria is an exceptional writer who knows how to deliver a story."
— Kimberla Lawson Roby, author of Changing Faces

"Murray has always impressed me with her ability to live the life of her characters and make them come alive with each turning page."
— Indianapolis Recorder

LADY JASMINE

"Realistic characters and a likable heroine make this title a winner for Murray's strong following."
— Library Journal

TOO LITTLE, TOO LATE

"Juicy Jasmine Larson Bush returns. . . . Murray efficiently illustrates the importance of honesty and trust in marriage, and manages to contain Jasmine's outrageousness within the context of Christian faith."
— Publishers Weekly

A SIN AND A SHAME

"One of our best and most prolific writers, an excellent storyteller."
— Eric Jerome Dickey

"Intriguing and well-written…. If you loved and hated Jasmine in Temptation, you'll love and hate her again."
— Indianapolis Record

GROWN FOLKS BUSINESS

"I enjoyed reading this book. It took me back to when I was living on the DL and made me realize just how hard sisters love their men, even when they know the truth."
— J. L. King, author of On The Down Low

"Grown Folks Business rattles the relationship cage and gets to the heart of what's serious and painfully real."
— Lolita Files, author of Tastes Like Chicken

"Victoria is an exceptional writer who knows how to deliver a story. Readers will find themselves still thinking about the characters long after they've turned the last page."
— Kimberla Lawson Roby, author of The Best-Kept Secret

TEMPTATION

"An emotional, realistic look at the devastation temptation can wreak."
— Library Journal

TRUTH BE TOLD

"Victoria Christopher Murray is back! Once again she's given us a fast paced novel about people of faith who must face real-life challenges."
— E. Lynn Harris

"With memorable characters, Truth Be Told is an entertaining, suspenseful, and page-turning read. I loved it!"
— Kimberla Lawson Roby, author of Too Much of a Good Thing

"Truth Be Told is a truly enjoyable story. The unforgettable characters lend an air of reality to this emotional and engaging read. [Murray's] latest is sure to please fans and resonate long after the last page is turned."
— Jacquelin Thomas, author of Soul Journey