Go West, Young Man: A Father and Son Rediscover America on the Oregon Trail (Paperback)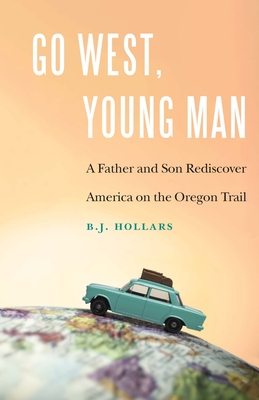 $19.95

Usually Ships in 1-5 Days
Description
---
2022 Silver Midwest Book Award Winner 

At the sound of the bell on the last day of kindergarten, B.J. Hollars and his six-year-old son, Henry, hop in the car to strike out on a 2,500-mile road trip retracing the Oregon Trail. Their mission: to rediscover America, and Americans, along the way. Throughout their two-week adventure, they endure the usual setbacks (car trouble, inclement weather, and father-son fatigue), but their most compelling drama involves people, privilege, and their attempt to find common ground in an all-too-fractured country.

Writing in the footsteps of John Steinbeck's Travels with Charley, Hollars picks up the trail with his son more than half a century later. Together they sidle up to a stool at every truck stop, camp by every creek, and roam the West. They encounter not only the beauty and heartbreak of America, but also the beauty and heartbreak of a father and son eager to make the most of their time together. From Chimney Rock to Independence Rock to the rocky coast of Oregon, they learn and relearn the devastating truth of America's exploitative past, as well as their role within it.

Go West, Young Man recounts the author's effort to teach his son the difficult realities of our nation's founding while also reaffirming his faith in America today.
About the Author
---
B.J. Hollars is an associate professor of English at the University of Wisconsin–Eau Claire. He is the author of numerous books, including This Is Only a Test, From the Mouths of Dogs: What Our Pets Teach Us about Life, Death, and Being Human (Nebraska, 2015), and Thirteen Loops: Race, Violence, and the Last Lynching in America.
Hollars is the founder and executive director of the Chippewa Valley Writers Guild. He lives a simple existence with his wife, their children, and their dog.
Praise For…
---
"[Go West, Young Man] offers readers an enjoyable and highly readable vicarious adventure while seated by their firesides."—Michael J. Smith, Nebraska History

"Go West, Young Man is a sweet read, part memoir, part history, part awakening—both for Henry and for his dad."—Laurie Hertzel, Minneapolis Star Tribune

"This book will give readers a sense that America is a collection of of many people's stories, told and experienced from various walks of life. . . . Go West, Young Man introduces the reader to these stories and provides many jumping-off points for readers who want to learn more about the history and culture of the West."—Joel T. Knudsen, South Dakota History

"In a trip echoing John Steinbeck's Travels with Charley, Hollars and his six-year-old son Henry set out to explore the Oregon Trail and discover America. . . . As their journey ends in Oregon, Hollars comes away from the trip with a renewed faith in modern America."—Missouri Historical Review

"Hollars resists easy ideas and easy answers, but the insights that he does reach are presented effectively and compellingly. . . . Go West, Young Man asks big questions about the multiplicity of American identities and narratives, and offers us a view toward how a father and son can answer them."—Colin Rafferty, author of Execute the Office and Hallow This Ground

"The Oregon Trail was once firmly woven into America's idea of itself due in part to chroniclers like Francis Parkman, who lit out in 1846 with horse and mule cart 'on a tour of curiosity and amusement.' More than a century and a half later, B.J. Hollars and his six-year-old son embark in a rented vehicle along the same westward route and with the same intention. In this mock adventure, father and son endure prairie swales and cyclonic winds, KOAs and interpretive centers, and self-inflicted dad jokes—all to answer this country's most enduring question: Who are we?"—John Hildebrand, author of Long Way Round: Through the Heartland by River