Here for You (Family Is Forever) (Paperback)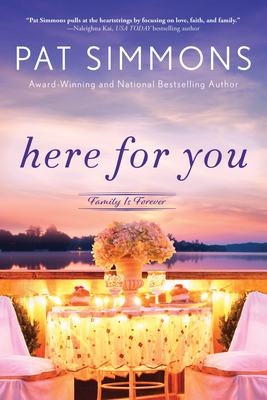 $12.99

Usually Ships in 1-5 Days
Other Books in Series
This is book number 2 in the Family Is Forever series.
Description
---
Emotional, poignant women's fiction from acclaimed inspirational romance author Pat Simmons featuring a hero and heroine who are better at taking care of other people than themselves, a dark moment that shakes their faith, and a profoundly satisfying happy ending.
Caregivers sometimes need a little TLC too.
Rachel Knicely's life has been on hold for six months while she takes care of her great aunt, who has Alzheimer's. Putting her aunt first was an easy decision—accepting that Aunt Tweet is nearing the end of her battle is far more difficult.
Nicholas Adams's ministry is bringing comfort to those who are sick and homebound. He responds to a request for help for an ailing woman but when he meets the Knicelys, he realizes Rachel is the one who needs support the most. Nicholas is charmed by and attracted to Rachel, but then devastating news brings both a crisis of faith and roadblocks to their budding relationship that neither could have anticipated.
Fans of Christian romance and inspirational stories will love this clean and wholesome romance exploring the challenges of family—and the rewards—when you open your heart to faith, hope, and love…
Praise for Lean On Me, Book 1 in the Family Is Forever series:
"As wonderful as a warm embrace… Simmons's cleverly crafted characters slip into your heart from the first page."—Tina DeSalvo, bestselling author
"Romantic, romantic, romantic—a great read, romance, and story of family."—Lyn Cote, USA Today bestselling author
"Reading a Pat Simmons novel is a treat. I loved this book."—Vanessa Riley, bestselling author
"The heartwarming bonds of family and friendship…[are] sure to tug at readers' heartstrings."—Publishers Weekly
About the Author
---
Pat Simmons is a multi-published author with more than thirty-five titles. She is a self-proclaimed genealogy sleuth who is passionate about researching her ancestors and then casting them in starring roles in her novels. She is a three-time recipient of the Romance Slam Jam Emma Rodgers Award for Best Inspirational Romance. Pat holds a B.S. in mass communications from Emerson College in Boston, Massachusetts. She has worked in various positions in radio, television, and print media for more than twenty years. She oversaw media publicity for the annual RT Booklovers Conventions for fourteen years. In addition to researching her roots and sewing, she has been a featured speaker and workshop presenter at various venues across the country.
Pat has converted her sofa-strapped sports fanatical husband into an amateur travel agent, untrained bodyguard, GPS-guided chauffeur, and administrative assistant who is constantly on probation. They have a son and a daughter.