The Innings and Outs of Baseball: Ready-to-Read Level 3 (Science of Fun Stuff) (Paperback)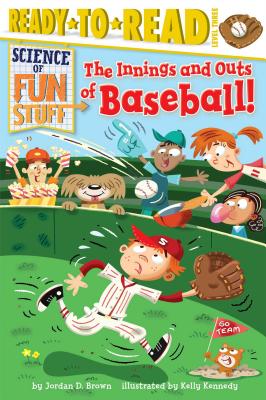 $4.99
Email or call for price.
Description
---
Learn the fascinating science behind baseball in this fact-tastic nonfiction Level 3 Ready-to-Read, part of a series about the science of fun stuff!

Did you know that every time you watch a baseball game, you are watching some great examples of physics in action? Why exactly does the amount of spin on a pitch determine how far a ball can be hit? And what's the scientific reason that using pine tar on the bat makes it easier to grip? Learn all about the science behind America's favorite pastime in this fun, fact-filled Level 3 Ready-to-Read!

A special section at the back of the book includes Common Core–vetted extras on subjects like anatomy and history, and there's even a fun quiz so readers can test themselves to see what they've learned!
About the Author
---
Jordan D. Brown loves to write about science for kids, and is the author of Micro Mania, Crazy Concoctions, and Robo World. He's also the educational advisor for TV shows such as Dinosaur Train and My Little Pony. Jordan lives in Walker Valley, New York, with his wife Ellen, two children, and two dogs.

Dagney Downey is an illustrator, storyboard artist, graphic novelist, and bluegrass musician. He often works late into the night, where he gets all his good ideas—when he's not chasing raccoons out of the yard. He's currently working on illustrating and writing more books for kids based on his rock band days. As a kid he wanted a pet raccoon, but not anymore.