Fahrenheit Classified: Deadly 6 (Paperback)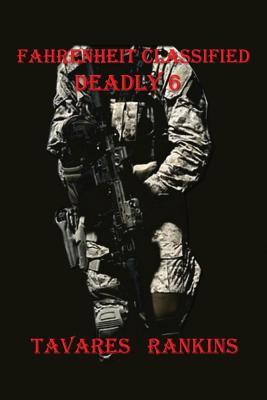 $11.00

Usually Ships in 1-5 Days
Description
---
As the world would witness a series of terrorist attacks on American soil, the U.S. President would rely on his best Navy SEALS - Hellz, Nok and Four-Lung- known as team Hellswindstaff. Team Hellswindstaff, known to be the most lethal soldiers in the entire world, lead three missions: Fahrenheit Classified, Fahrenheit Reclassified, and Fahrenheit Classified the Wrath of Hellswindstaff. All of the missions are in efforts to capture or kill the most wanted terrorist in the world.

Team Hellswindstaff tracked the most wanted terrorist (Usoma Bin Laden) and, although the SEALS successfully eliminate and kill UBL, it would be a bittersweet victory as team Hellswindstaff member, Agent Hellswindstaff A.K.A. Agent Hellz, the most lethal soldier in the World, sacrificed his life to take out the most wanted terrorist. The two surviving Navy SEALS of team Hellswindstaff retire after the death of their fellow SEAL but were forced to come out of retirement and join their understudy during mission Dawn of a New Era.

Fahrenheit Classified: Deadly 6 begins where Fahrenheit Classified: Dawn of a New Era ends Join five of the world's most lethal Navy SEALS in efforts to defend against terrorist attacks from a new radical group of extremists known as I.S.I.S. During this mission, the five members of Team Hellswindstaff travel to foreign lands in efforts to neutralize terrorist cells located in Iraq and Syria, and, while the SEALS attempt to neutralize terrorist cells, the United States suffers a breach of epic proportions. An expert hacker turned terrorist hacks into U.S. National Security, retrieving some of the United States top military secrets, information, and addresses of top U.S. Officials; but when the Hacker uncovers information regarding the world's most lethal Navy SEALS known as team Hellswindstaff, all rules of war are no longer considered as things become personal

The Saga Continues...


About the Author

Author Tavares Rankins chose not to reveal any information regarding his personal life or background. Rankins would like to thank Dorrance Publishing, RoseDog Books and all the supporters of the Fahrenheit series.

This book is dedicated to all U.S. Soldiers, past and present...and the lives of those affected by acts of terrorism.