The Weight of Blood (Large Print / Hardcover)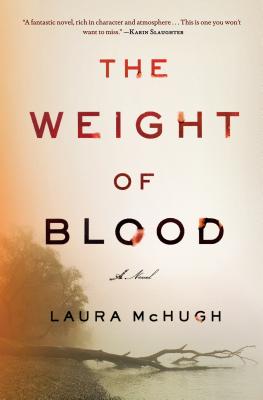 March 2014 Indie Next List
---
"This is a literary thriller that will keep you reading well into the night. Two girls, Lila and Cheri, disappear a generation apart. Lucy, Lila's grown daughter and Cheri's friend, soon realizes there is a connection between the two that runs deep in her family. The Ozark Mountain landscape is the perfect setting for this powerful and haunting mystery. Fans of Gillian Flynn will not be disappointed in this gritty coming-of-age story that tests the limits of family loyalty."
— Amanda Skelton, Union Avenue Books, Knoxville, TN
Description
---
For fans of Gillian Flynn, Scott Smith, and Daniel Woodrell comes a gripping, suspenseful novel about two mysterious disappearances a generation apart.
The town of Henbane sits deep in the Ozark Mountains. Folks there still whisper about Lucy Dane's mother, a bewitching stranger who appeared long enough to marry Carl Dane and then vanished when Lucy was just a child. Now on the brink of adulthood, Lucy experiences another loss when her friend Cheri disappears and is then found murdered, her body placed on display for all to see. Lucy's family has deep roots in the Ozarks, part of a community that is fiercely protective of its own. Yet despite her close ties to the land, and despite her family's influence, Lucy--darkly beautiful as her mother was--is always thought of by those around her as her mother's daughter. When Cheri disappears, Lucy is haunted by the two lost girls--the mother she never knew and the friend she couldn't save--and sets out with the help of a local boy, Daniel, to uncover the mystery behind Cheri's death.
What Lucy discovers is a secret that pervades the secluded Missouri hills, and beyond that horrific revelation is a more personal one concerning what happened to her mother more than a decade earlier.
"The Weight of Blood" is an urgent look at the dark side of a bucolic landscape beyond the arm of the law, where a person can easily disappear without a trace. Laura McHugh proves herself a masterly storyteller who has created a harsh and tangled terrain as alive and unforgettable as the characters who inhabit it. Her mesmerizing debut is a compelling exploration of the meaning of family: the sacrifices we make, the secrets we keep, and the lengths to which we will go to protect the ones we love.
Praise for "The Weight of Blood"
"McHugh is an artful, efficient writer who tells her story in vicious blows. . . . She] has crafted a sharp, haunting tale of blood in the Ozarks, as substantial as it is pleasurable to read."--"Los Angeles Times"
"Laura McHugh's atmospheric debut, "The Weight of Blood" . . . conjures a menacingly beautiful Ozark setting and a nest of poisonous family secrets reminiscent of Daniel Woodrell's "Winter's Bone.""--"Vogue "("Spring's Ten Best Suspense Novels")
"A fantastic novel, rich in character and atmosphere . . . This is one you won't want to miss."--Karin Slaughter, author of "Unseen"
"A suspenseful thrill ride that satisfies in all the right ways . . . Daniel Woodrell had better watch his back. . . . "The Weight of Blood" is a tense, taut novel and a truly remarkable debut."--"BookPage"
"Laura McHugh's vivid and enthralling "The Weight of Blood" centers on a mother and daughter in a seemingly benign yet deeply horrifying small town. It kept me on the edge of my seat from the first page to the last."--Vanessa Diffenbaugh, author of "The Language of Flowers"
""The Weight of Blood" pulled me in and wouldn't let go. What starts as Lucy's coming-of-age story becomes a chilling tale about the price of secrets. As the menace deepens, so does the tension. Laura McHugh has written a terrific novel."--Meg Gardiner, Edgar Award-winning author of "The Shadow Tracer"
"From the Hardcover edition.
About the Author
---
Laura McHugh lives in Columbia, Missouri, with her husband and children. "The Weight of Blood" is her first novel.